The Israeli Occupation Open a New Colonial Road South "Kiryat Netafim" / Salfit governorate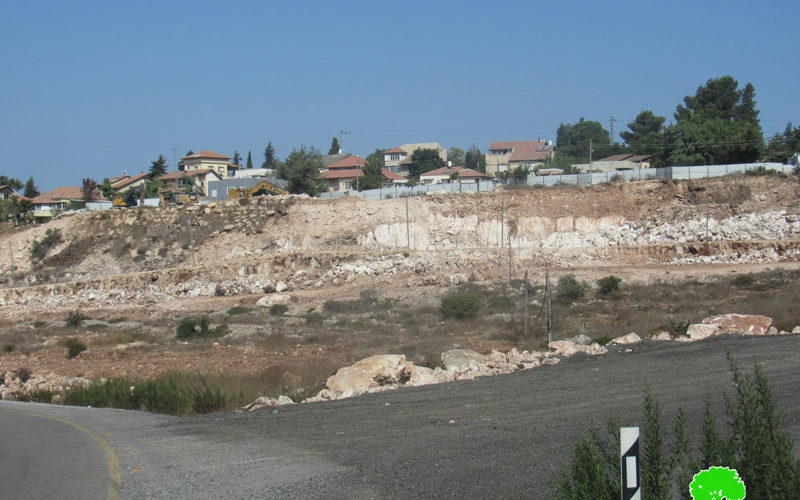 Violation: A scheme to implement a New Colonial road.
Location: People of Haris village / northwest Salfit.
Date: August 2020.
Perpetrators: "Kiryat Netafim" Colony.
Victims: Land owners and farmers at the area.
Description:
The Israeli Occupation Machineries continue ravaging vast areas of agricultural lands south Kiryat Netafim Colony- built on confiscated lands from the village- in order to open a new colonial block to serve the colony's growth. The occupation prohibited land owners from accessing their lands for a long time to leave it as a colonial reserve for future expansions.
Reportedly, The Occupation opened a new colonial road with a total area of 600 m inside the targeted area; also vast areas of lands were leveled preparing for expansion.
The targeted area is in natural block (27) of Haris village lands known of Khallet Hadida, with a total area of 40 dunums belong to Heirs of Fareed Shamlawi, the occupation issued confiscation orders for those lands in the eighties of the last century, as it Is located to the north of bypass 505 (also known as Trans-Samaria highway).
During the last few years, the occupation leveled number of agricultural lands around the area, and many residential units were built especially at the eastern side, in 2014, 35 dunums were ravaged in Sarta and Qarawat Bani Husan to establish a new colonial block.
Concluded from field observation, the colony of Kiryat Netafim is undergoing expansion; the name of the colony is derived from al- Nowaitif ancient Roman well founded on the lands of Qarawet Bani Hassan town. The colony was built in the beginning of the eighties of the last century on the lands of Qarawet Bani Hassan and nearby Sarta.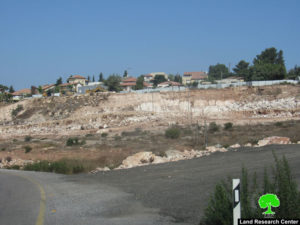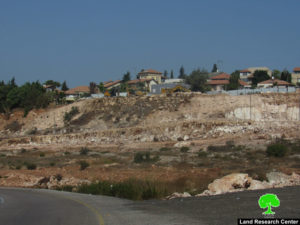 .Photos 1+2: New ravages works
About Haris:  [1]
7 km to the northwest of Salfit governorate, Haris is located with a total land area of 8769 dunum, of which 190 dunums are the village's built-up area. Haris is surrounded by the villages of Deir Istiya from the north, Kifl Haris from the east, Kfar ad-Dik and Bruqin from the southwest and Qarawat Bani Hassan from the west.
It has a total population of 3740 people according to the census of Palestinian Central Bureau of Statistics for 2009. Those people hail from the following families: Abu Atta, Dawoud, Salamih, Sultan, Shihada, Souf, Faz', Awwad, Qasim, and Klaib. The Israeli occupation confiscated 3631 dunums from the village as follows :
Israeli colonies confiscated 2672 dunums as detailed in the below table
| | | | |
| --- | --- | --- | --- |
| colony | Year of establishment | Confiscated area\dunum | Number of colonists |
| Kiryat Netafim | 1982 | 188 | 384 |
| Revava | 1991 | 269 | 703 |
| Burkan | 1981 | 177 | 1207 |
| Burkan Industrial | 1981 | 1346 | — |
| Ariel Industrial | — | 692 | — |
| Total |   | 2672 | 2294 |
726 dunums were confiscated to open the bypass roads numbers ( 505, 4765, 5506)
The apartheid wall confiscated 233 dunums for its establishment. Upon its completion, the wall will isolate 7135 dunums
According to Oslo Accords, the lands of Haris are classified as follows:
631 dunums are classified as area "B"
7815 dunums are classified as area "C"
[1] GIS-LRC
[1] GIS-LRC