Expanding "Nevi Nahmiya" outpost on Iskaka village lands / Salfit governorate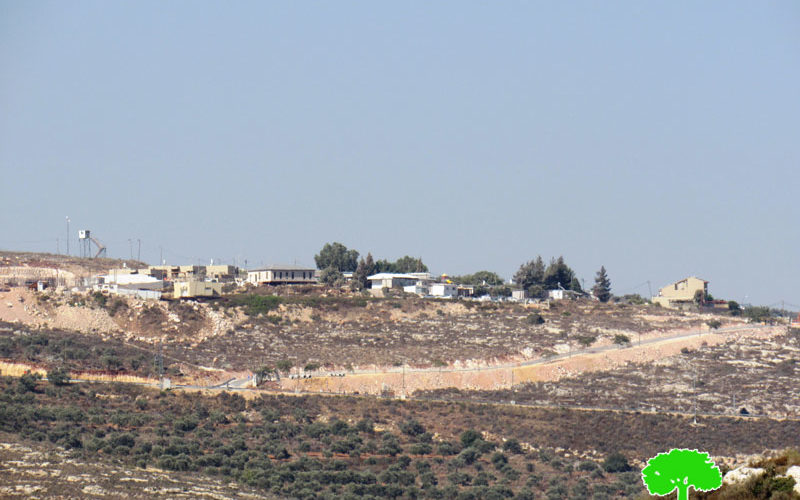 Violation: Expanding an outpost on the expense of Palestinian lands.
Location: Iskaka village / Salfit governorate.
Date: August 6th 2020.
Perpetrators: Nevi Nahmiya outpost.
Victims: Number of farmers around the village.
Description:
It is reported that Colonists carry out consistent ravaging works in the eastern side of Iskaka village in Salfit governorate, especially in Khallet Al-Ghanayem and Qaneueh area east the village in order to expand Nevi Nahmiya outpost on confiscated lands from Yasouf and Iskaka.
The Occupation carried on ravaging more than 35 dunums south west the outpost with the intention to expand it. The area where the expansion is occurring was confiscated in 2011, and announced as state properties according to Iskaka village council, noting that those lands were postures for people of the village.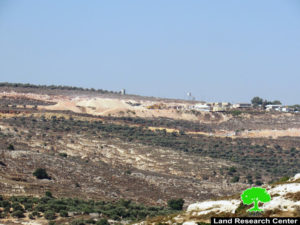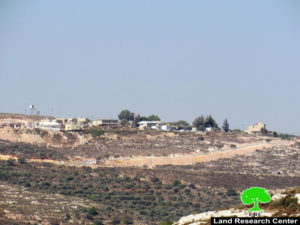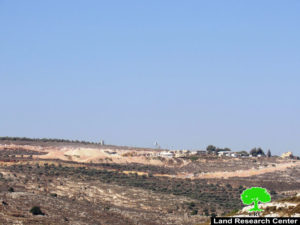 Photos 1-3: Ravages to expand the outpost
The targeted lands belong to: Heirs of Abdul Qadir Harb , heirs of Abdul Raheem Harb , Nathmi Harb , and Mihsen Harb from Iskaka village.
Village council member Harees Lami told LRC: "The Occupation has been planning to take over the targeted area for too long, due to its great location those overviews the Jordan valley. It is also located between a number of colonies, most notable, Rehalim which is a massive colony in the Jordan Valley . The targeted lands used to be wheat fields that benefited many farmers at the town.
Lami asserted:
"Thursday morning, August 6th 2020 , the occupation brought heavy machineries and carried on ravaging vast areas  of agricultural lands without any preceding notices , the ravages are developing quickly under the protection of the occupation forces , the colony will be twice its size once the ravaging end , which paves the way to turn the outpost into a legalized colony with developed infrastructure."
Last February, LRC field reporter documented opening a new road east the outpost in the darkness of the night, the Palestinian Liaison office intervened to stop them, ravages are all around the area, and every now and then you'd find a new ravaging work.
Nefi Nahmiya outpost was established in 2003 when a group of Illegal colonists set up caravans on lands confiscated from the Palestinian Villages Yatma and Yasouf outpost , in 2009 the occupation authorities opened a new colonial road to serve the outpost , and now as the world is preoccupied  with a global pandemic and under a radical Israeli government  which already legalized a large part of colonial Israeli activities in the West Bank ,Colonists are trying to get legalization for Nefi Nahmiya and establish infrastructure for it . Noteworthy , Salfit governorate contains 23 illegal Israeli colonies compared to only 18 Palestinian communities."
Land Research Center sees Israel continuous expansion on colonies in the West Bank and Jerusalem at the expense of Palestinian and lands a flagrant violation of Human Rights and all international laws and conventions, which prohibit disposition of public properties in occupied countries.
UN Security Council Resolution 242 of 1967: calls for
the Withdrawal of Israel armed forces from territories occupied in the recent conflict;
Termination of all claims or states of belligerency and respect for and acknowledgment of the sovereignty, territorial integrity and political independence of every State in the area and their right to live in peace within secure and recognized boundaries free from threats or acts of force." 
UN Security Council Resolution 449 of 1979: the Security Council determined:
"that the policy and practices of Israel in establishing settlements in the Palestinian and other Arab territories occupied since 1967 have no legal validity and constitute a serious obstruction to achieving a comprehensive, just and lasting peace in the Middle East"
UN Security Council Resolution 452 of 1979: states that
"the policy of Israel in establishing settlements in the occupied Arab territories has no legal validity and constitutes a violation of the Fourth Geneva Convention relative to the Protection of Civilian Persons in Time of War of 12 August 1949"  and "calls upon the Government and people of Israel to cease, on an urgent basis, the establishment, construction and planning of settlements in the Arab territories occupied since 1967, including Jerusalem."
UN Security Council Resolution 465 of 1980:
It expressed concern at Israeli settlement policy in the Arab territories and recalled resolutions 237 (1967), 252 (1968), 267 (1969), 271(1969) and 298 (1971). It further called upon the State and people of Israel to dismantle such settlements. The resolution calls on all states 'not to provide Israel with any assistance to be used specifically in connection with settlements in the occupied territories