Eviction Notices for 77 dunums in Deir Ballut/ in Salfit Governorate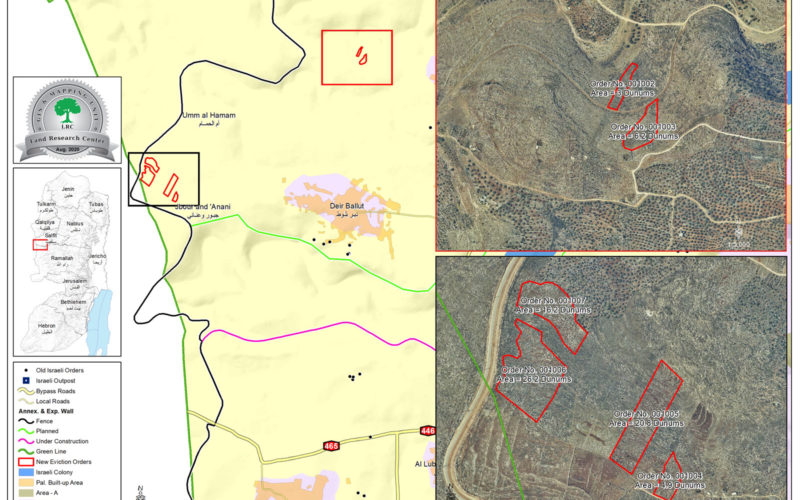 Violation: Eviction notice.
Location: Deir Ballut town / Salfit governorate.
 Date: August 4th 2020.
Perpetrators: The Israeli Occupation Civil Administration.
Victims: 6 families from Deir Ballut.
Description:
August 4th 2020, About 1:00 Tuesday , a vehicle from the civil administration under the protection of the occupation forces raided Deir Ballut in Salfit governorate , and distributed six eviction notice for citizens at the town.
The notices were issued by the "Israeli Occupation Forces – The civil administration for Judea and Samaria – Responsible on governmental properties – central inspection unit".
The Occupation claimed that Palestinian citizens are illegally using the land , and ordered returning the plot to its previous status within (45) days , and threatened in case they didn't evict voluntary , the occupation forces will carry out the operation and make them pay all the costs.
Noteworthy, eviction means "Evict the plot and returning it to its previous status" , including uprooting trees, demolishing cisterns , retaining walls , and burying any rehabilitation works.
Deir Ballut municipality head Yehia Mustafa told LRC:
"The targeted plot is in Khallet 'Othor west the town , nearby the annexation and expansion wall , it has a total area of 80 dunums , planted with olives".
Mustafa asserted that the area is private properties and the owners do have ownership deeds. after the notices owners were asked to prepare their legal file including inheritance deeds and contact official bodies , Which reflects the occupations attempt to restrict citizen's movement in only 5 % of the town's lands , and prohibiting them from using C area , which contains 400 houses.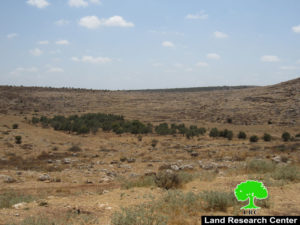 Photos 1-5: Plots targeted in the notice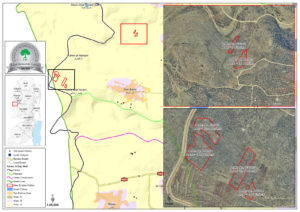 Citizen 'Omar Musa (56) told LRC: "My uncle 'Izzat Musa and I , own 60 dunums of lands that we inherited from my grandfather , the plot in fact has a total area of 550 dunums , but a large part of it was stolen and isolated behind the annexation and Expansion Wall."
Musa asserted: "6 years ago my uncle and I planted olive trees around 60 dunums , that were wheat fields in the past. We took very good care  of them , until they grew and started giving harvest , and last years was the first time we collect the crop , that made 15 olive oil tanks."
Omar Mussa says : "Tuesday August 4th 2020 , I was shocked when the town's people came by and told me that the occupation forces raided the plot and served an eviction notice . Ignoring the fact that hold ownership deeds, according to the notice , the occupation claims that I have to get ownership deeds from the Israeli Civil Administration office nearby Qalqilya checkpoint , and as a body that issues ownership deeds they must know this is my land".
The following table Shows more information about the targeted lands:
| | | | | |
| --- | --- | --- | --- | --- |
| Affected citizen | Family members | Area in dunums | Number of olive trees | Notice number |
| Meta'ab Musa | 8 | 3 | 42 | |
| Nesfat Musa | 5 | 6.2 | 32 | |
| Mohammed Issa | 8 | 4.9 | – | |
| Rateb Issa | 5 | 20.8 | 157 | |
| Ghazi Issa | 6 | 26.2 | 13 | |
| Omar Musa | 9 | 16.2 | 12 | |
| Total | 41 | 77.3 | 256 |   |
Source : Firsthand field observation , Israeli Violations Monitoring Section , Land Research Center , August 2020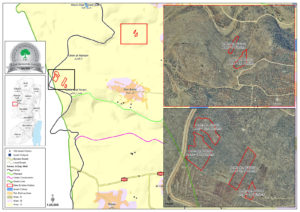 About Deir Ballut: [1]
24 km west Salfit, Deir Ballut is surrounded by Rafat village (north), The green line – occupied territories of 1948 (west), Kafr Ad-Deek village (east), Al-Lubban Al-Gharbi village (south).
 Deir Ballut is populated 3,870 people in 2017 census. The town's people are from several families, namely: Tufaha, Khair, Abdullah, Qassim, Qaroush, Mesha'l, Mustafa, Musa and Hadrous.
Deir Ballut has a total area of 11,339 dunums , of which 503 dunums are a built up area.
Deir Ballut is popular with rain-fed agriculture such as (Armenian cucumber, Ladies fingers, garlic and others), in addition to olives and wheat.
Deir Ballut contains a water spring in Wadi Al-Ein area, and the town's people depend on the National Israeli water company,  in addition to rain water harvest cisterns for daily use water.
The Israeli occupation devoured 436 dunums for the following purposes:
"Har Alei Zahav" illegal settlement was established in 1983 on 190 dunums of confiscated lands, it is populated 3119 settlers (The Israeli ministry of interior – 3 January 2019).
Bypass 446 devoured 127 dunums.
The segregation wall is 1,189 m long, it ate up 119 dunums and blocked 895 dunums. In case the plan of the segregation wall was completed , it will become 6,695 m lone, and eat up another 670 dunums , in addition to blocking 2,613 dunums.
[1] GIS-LRC