Demolition Notice for a Road in Kisan Village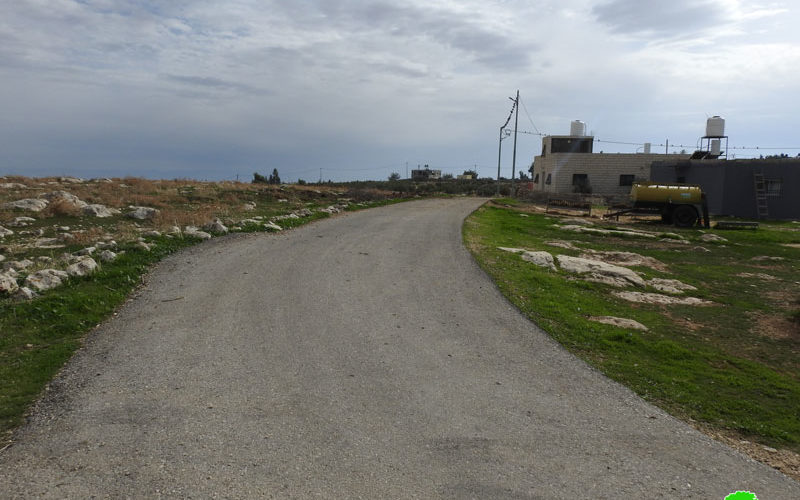 Violation: notifying a road.
Location: Kisan Village \ Bethlehem governorate.
Date: August 25th 2020.
Perpetrators: The Israeli Occupation Forces and Civil Administration.
Victims: People of Kisan Village.
Description:
Tuesday , August 25th 2020 , the Israeli occupation forces raided Kisan village and notified a road that leads to several houses at the village on the pretext of building without a license.
The road serves several families at the village and was opened 4 years ago (about 200 m long) , in order to facilitate reaching the area.
The notice was preceded by a written notice in June 21st 2017, and ordered returning the road to its previous status.
One of the affected people Hussain Ghazal told LRC:
" The road was opened to serve the families and facilitate their movement, which is one of our basic right , we sure are not going to use a plane to get to our houses."
The Occupation escalates wave of attacks against Palestinian citizens , especially in the so called C area at the west bank , and Kisan has a large share from these attacks represented in notifying houses and structures on the pretext of building without a license , noting that C area is under Israeli control, and According to Oslo accords Israel is obliged to provide infrastructure for Palestinians in C area.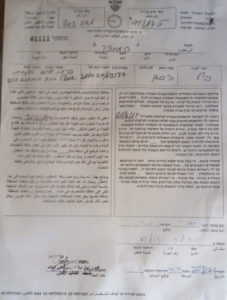 Photo 3: The notice
Kisan:[1]
Located 18km south of Bethlehem, Kisan village is surrounded by Tuqu' (north), Sa'ir (west), the Dead Sea (east), Arab ar Rashayda/ Sa'ir/ Al Buweib (south). Kisan has a population of 560 people (2017 census). It has a total area of 133,278 dunums- 88,7 of which are built-up area. The Israeli occupation confiscated 2201 dunums of Kisan lands to build the following colonies:
Maale Amos which was built in 1981 and devoured 320dunums of Kisan. It is inhabited by 299 colonists.
Mizpe Shalem which was built in 1971 and confiscated 396 dunums. 193 colonists live in that colony.
Mizpe Shalem B which was built in 1980 and stole 58 dunums.
Ibei Hanachal outpost which confiscated 166 dunums of Kisan.
Israeli Bypass road number 90 devoured more than 1000 dunums.
According to Oslo Accords, 11% of Kisan is considered nature reserve while 40% is under Area B (PA is in charge of civil matters with Israel responsible for security). However, most of the village lands (49%) is under Area C (Israel maintains full security and administrative control). Here are the areas in dunums:
Land considered natural preserve (24.480) dunums
Area B (88.5) dunums
Area C (108.455) dunum
[1] GIS-LRC