The Occupation Demolishes the Foundation of a House in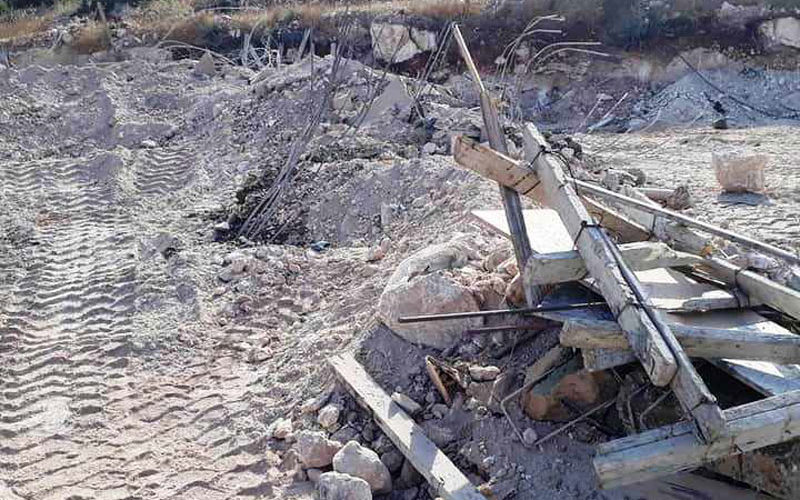 Beit Awwa, west Hebron
Violation: demolition of the floor of a house.
Date of Violation: 29/07/2020.
Location: Khallet Al-Baraka – Beit 'Awwa / Hebron Governorate.
Perpetrator: the so-called Israeli Civil Administration.
Victims: family of Citizen Mo'az Al-Sweiti.
Description:
Wednesday morning, July 29th 2020, the Israeli occupation authorities demolished the foundations of an under contraction house, on the pretext of building without a license in Beit Awwa, west Hebron.
Owner Mo'az Swaiti told LRC the following:
"An army force accompanied by employees from the building and organization department and a Caterpillar bulldozer raided "Khallat Al-Baraka" area west the town through one of the gates in the Annexation and Expansion Wall. The occupation forces surrounded the under construction house and carried out the demolition."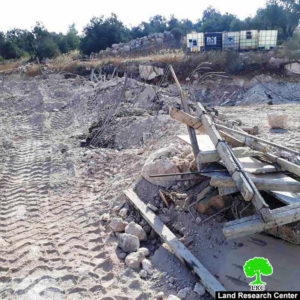 Photo 1: Ravaging works at As-Sweiti house
As-Sweiti (22) had begun at the end of the year 2019 the construction process of his house. However, on November 14th 2019, the occupation authorities notified him to stop work under the pretext of building without a license.
The occupation also in January 15th 2020 issued a final halt of work and demolition order , As-Sweiti had already completed the construction of house foundations , and served demolition order (60312), where they threatened to demolish what was built within 7 days from the issuing date.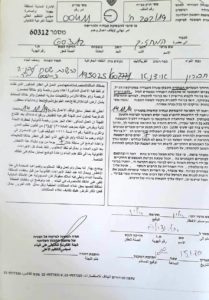 Photo 2: a demolition order for As-Sweiti house foundations
After receiving a demolition order, As-Sweiti proceeded to prepare the necessary files for licensing, but due to "Corona" pandemic and the quarantine imposed on citizens in the West Bank, and on Beit 'Awwa town in particular, in addition to obstruction measures by the occupation authorities , As-Sweiti failed to get a license.
About Beit Awwa:[1]
Beit Awwa  is located 17 km to the west of Hebron city and is edged by Deir Samit village from the north,   occupied territories of 1948 from the west, Dura village from the east and Sikka and Tawas villages from the south.
Its population mounts to 10,436 (2017 census) people. Beit Awwa's total land area is 22,428 dunums, of which1048 dunums are considered the village's built-up area.
Israeli colonies confiscated 152 dunums from Beit Awwa lands. Negohot colony that was established in 1982 confiscated around  112 dunums and is now home for 134 colonists. Also, Mirshalem colony confiscated 40 dunums from the village.
The apartheid wall is founded on 4061 meters from the area and was reported to confiscate 406 dunums and to isolate 380 other dunums behind its construction.
The lands of Beit Awwa  are classified according to Oslo Accords as the following:
11846 dunums (53%) are classified as area B
10582 dunums (47%) are classified as area C
Legal Feedback
Demolishing Palestinian houses and facilities is a violation of international conventions and agreements such as:
Article 147 of Geneva fourth convention: extensive destruction and appropriation of property not justified by military necessity and carried out unlawfully and wantonly. ( it is considered a serious violation of the convention)
Article 53 of Geneva fourth convention that forbids destroying properties: Any destruction by the Occupying Power of real or personal property belonging individually or collectively to private persons, or to the State, or to other public authorities, or to social or co-operative organizations, is prohibited, except where such destruction is rendered absolutely necessary by military operations.
Article 33 of Geneva fourth convention: No protected person may be punished for an offence he or she has not personally committed.
Article 32 of Hague convention 1907 part g: To destroy or seize the enemy's property, unless such destruction or seizure be imperatively demanded by the necessities of war.
Article 17 of Universal declaration of human rights 10 –Dec- 1948:  No one shall be arbitrarily deprived of his property.
[1] GIS-LRC