Halt of Work notices for houses and facilities east Deir Samit / West Hebron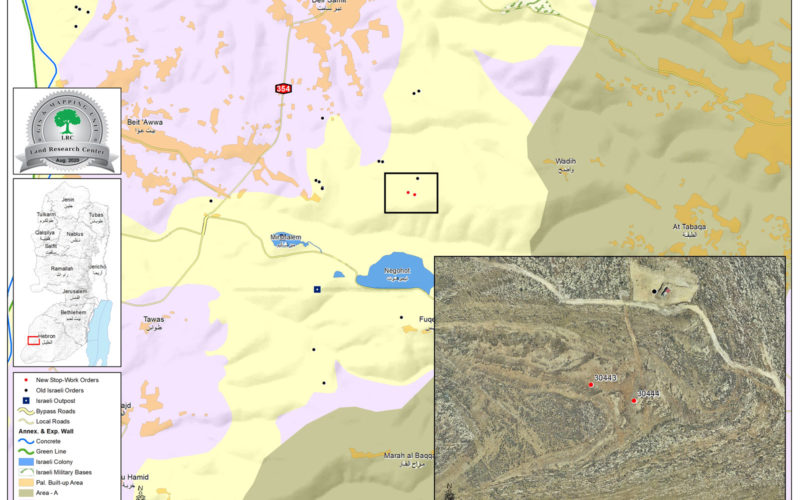 Violation: Halt of work notices.
Date: July 19th 2020.
Location: Umm Hathwa – Deir Samit town / Hebron governorate.
Perpetrator: The Israeli Occupation Civil Administration.
Victims: Nooh and Mufeed Al-Hroub.
Description:
Sunday, July 19th 2020, the Israeli occupation authorities issued a halt of work notice on two houses and cisterns, on the pretext of building without licenses in Deir Samit west Hebron.
The owners found the notices hanged on the targeted structures, under which the occupation set August 16th 2020 as the date of the subcommittee session in Beit El military court to decide the fate of the structure.
The notices targeted the following facilities:
Halt of Work notice number (30443): which targets an under construction house belongs to citizen Theeb Al-Hroub in Umm Al-Hathwa area east Deir Samit , the targeted house has a total area of (97 m2 ) and was constructed in May 2020.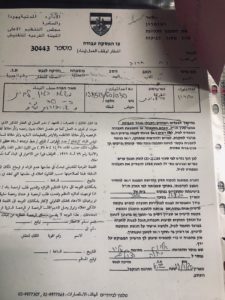 Notice number (30443) which targets Nooh Al-Hroub house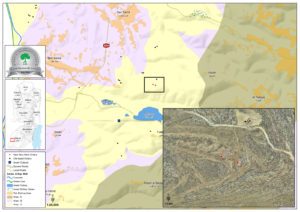 Halt of work notice number (30444) : targets under construction house and two cisterns, the house is still in the foundations phase , while the cisterns are also in the earliest phase of construction , the house was supposed to be a home for a family of 6 , among them two children.
Land Research Center provides legal guidance for citizens targeted in Israeli military orders, Deir Samit residents were in Supporting the Palestinian Rights to Land and Housing project activities in 2016 , and were given guidelines to prepare a legal file and apply for a license, or submit objections.
Deir Samit "Al Yasiriya":[1]
13 kilometer south west of Hebron, Deir Samit is surrounded by As Sumaya (north), Tarusa and Dura (east), Beit Awwa and Wadi Abed (south). It has a population of 8114 people according to statistics conducted in 2017. Deir Samit has a total area of 22273 dunums, 717 of which are built-up area of the town.
Two colonies are built on Deir Samit lands. The first one is Mirshalim  and it confiscated 40.5 dunums. The second is Negohot which was built in 1982 and devoured 112 dunums of the village. It is inhabited by 134 colonists. Moreover, bypass road number 3265 which serves Jewish colonists only confiscated 413 dunums of the land. Let alone the Apartheid Wall that devoured 414 dunums and isolated 350 dunums. The Wall is 4143meters long.
According to Oslo Accords, 54% of Deir Samit lands is under Area B (PA is in charge of civil matters with Israel responsible for security) while 46% is under Area C (Israel maintains full security and administrative control).
[1] GIS-LRC