Halt of Work notice targets an agricultural facility in Bait Mirsim / southwest Hebron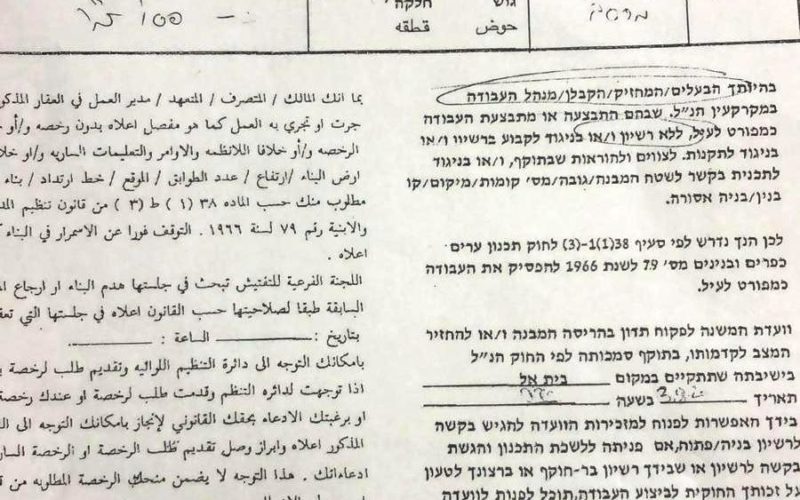 Violation: Halt of work notice.
Date: July 8th 2020.
Location: Bait Mirsim – Dura / Hebron governorate.
Perpetrator: The Israeli Occupation Civil Administration
Victims: Citizen Humza Amr.
Description:
July 8th 2020, The Israeli Occupation authorities issued a halt of work notice on an agricultural facility for citizen Hamza Amr , in Bait Mirsim west Dura – Hebron governorate.
Amr (55) said: "A vehicle belongs to Israeli building and Organization department raided the area and hanged the notice on the wall".
The notice was issued by "The Civil Administration – High Organization Council – The Inspection Subcommittee" it was entitled "A halt of work notice" , and numbered 30440.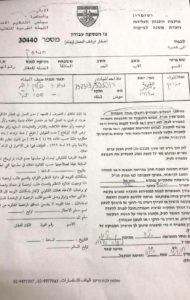 The Occupation Authorities halted the work of a small boiler breeding enterprise on the pretext of working without licenses in C area, and set August 3rd 2020 as the date of subcommittee session in Belt El military court to decide the fate of the structure.
Reportedly, the targeted structure is a shack built of bricks and a steal sheets ceiling, with a total area of 250 m2 built since 2013.
Beit Mirsim is located 20 km to the west of Dura, and 30 km away from Hebron , the village has a population of 500 people. Beit Mirsim contains a water network , roads network , Mosque , medical center and Kindergarten. The village is surrounded by Beit Al-Rush Al-Fouqa (east and north) , The Annexation and Expansion wall (west) , Al-Birj and Al-Bireh (south).