Colonists Sabotage a Siege and loot agricultural tools in Turmus'syya town / Ramallah governorate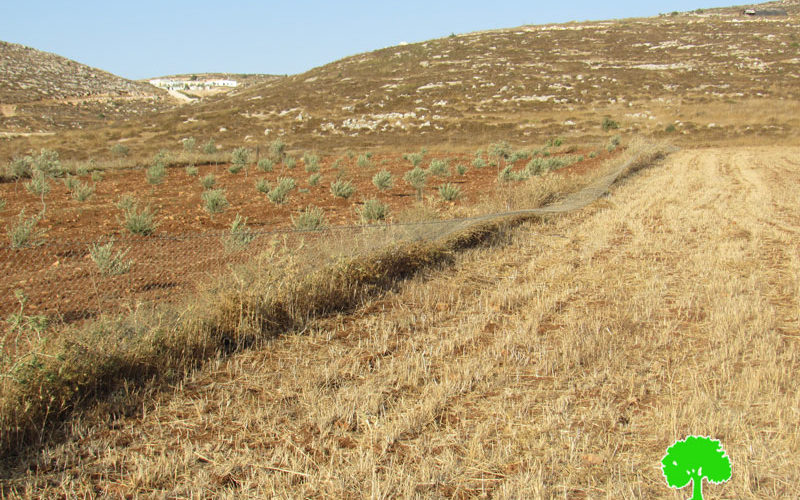 Colonists Sabotage a Siege and loot agricultural tools in Turmus'syya town / Ramallah governorate
Violation: destroying a siege and looting agricultural tools.
Location: Turmus'ayya town/ north Ramallah.
Date: July 21st
Perpetrators: illegal colonists.
Victims: Citizen Salim Dar Awad.
Details:
Tuesday evening, July 21st 2020, Colonists from the random illegal outpost built in "Al-Muraba'a" area destroyed a metal fence surrounding an olive grove belongs to Salim Dar Awad, the fanatic colonists also looted iron corners and other agricultural tools from the 3.5 dunums – grove.
 Reportedly,   the attack took place in the early evening hours , about 150 metal comers (were used to stabilize a siege that surrounds a 3.5 dunums olive grove). Noteworthy, the new illegal outpost is 150 m away from the targeted olive grove.
Mr. Saeed Abu Talib mayor of Turmusayya told LRC the following:
 "This attack is not the first of its kind, After establishing the new random outpost, attacks against farmers and visitors of the area were intensified, several robberies occurred targeting agricultural tools. Helpless Palestinian farmers filed many complaints to the Occupation's police, but nothing was done to stop the attacks."
Reportedly, a group of fanatic colonists took advantage of the current political situation to set up number of tents on Turmus'ayya lands, followed by a military point being set up in the area only 30 m east the outpost, which currently devours 18 dunums of postures in Natural Block (4) o Turmus'ayya lands.
Iyad Haddad told LRC the following:
"The new illegal outpost overviews Turmusayya' s lowlands , Being in a strategic  location increases the chance for illegal colonists to attack farmers and impose a greater threat on agricultural lands. Noteworthy, about 4000 dunums of Turmusa'yya lands are fertile and arable , and are with a great impotence for farmers in the area."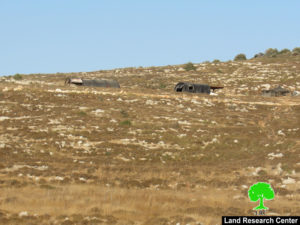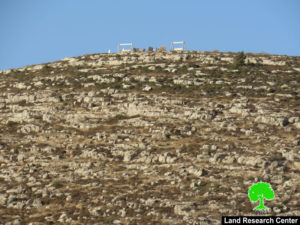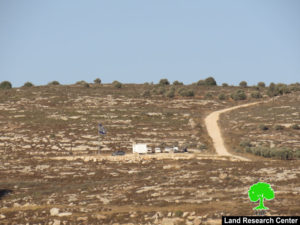 Photos 1-3: The new illegal outpost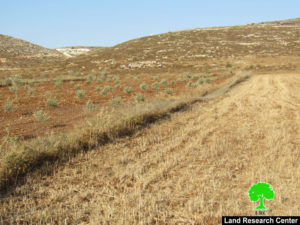 Photo 4: after sabotaging the metal fence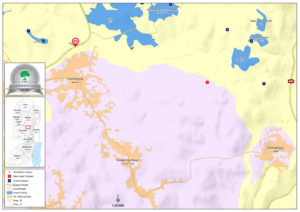 About Turmus'ayya:[1]
 It is located 25 km to the north east of Ramallah city. It has a population of 3736 people (according to a 2007 census). Its total area is 18139 dunums, 1350 of which are built-up area. About 11218 dunums of land are under Area B (PA is in charge of civil matters with Israel responsible for security) and 6921 dunums are under Area C (Israel maintains full security and administrative control).
The Israeli occupation confiscated vast areas of the village for the benefit of the following colonies:
Shilo and Mizpe Rahel devoured 1023 dunums
Mizpe Rahel  devoured 706 dunums
The bypass road number 60 stole 12.5 dunums
[1] GIS-LRC