The Israeli Occupation demolishes an agricultural room in "Wad Al-A'awar" south Hebron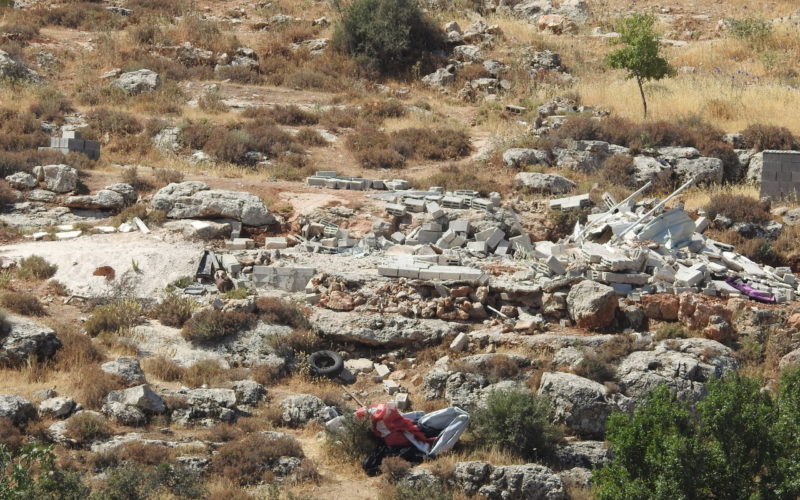 Violation: Demolishing an agricultural room.
Date: June 23rd 2020.
Location: Wad Al-A'awar / south Hebron city.
Perpetrator: The Israeli Occupation Civil Administration.
Victims: Citizen Thaer Ghaith.
Description:
June 23rd 2020, The Israeli Occupation authorities demolished an agricultural structure belongs to citizen Thaer Ghaith , on the pretext of building without licenses in "Wad Al-A'awar" south Hebron.
Ghaith told Land Research Center:
"The Israeli Occupation forces accompanied by the building and organization officer in the civil administration and a JCB bulldozer raided "Wad Al-A'awar" about 8:00 am , surrounded the targeted room and carried out the demolition."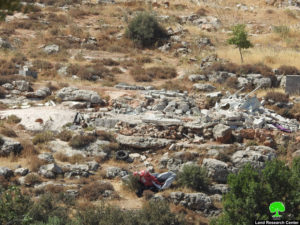 The remains of the demolished room
The Occupation authorities demolished a room built of bricks and steel sheets, with a total area of 30 m2 established early 2020. The room was used as a resting place and to store agricultural tools and products.
Ghaith who owns 3 dunums at the area , said that he found a notice of demolition targeting the facility (room) with a deadline of only 96 hours , the notice was issued under military order no(1797) which authorizes the Civil Administration to demolish any uninhabited or under construction houses within 96 hours.
Wad Al-A'awar is located to the south of Hebron, close to Al-Fahes area , also to the east of Wad Al-Samn , and bordered by bypass 357 (north).
Legal Feedback:
Demolishing Palestinian houses and facilities is a violation of international conventions and agreements such as:
Article 147 of Geneva fourth convention: extensive destruction and appropriation of property, not justified by military necessity and carried out unlawfully and wantonly. ( it is considered a serious violation of the convention)
Article 53 of Geneva fourth convention that forbids destroying properties: Any destruction by the Occupying Power of real or personal property belonging individually or collectively to private persons, or to the State, or to other public authorities, or to social or co-operative organizations, is prohibited, except where such destruction is rendered absolutely necessary by military operations.
Article 33 of Geneva fourth convention: No protected person may be punished for an offence he or she has not personally committed.