Settlers set fire in 32 dunums of agricultural lands in Ein Samiya / Ramallah governorate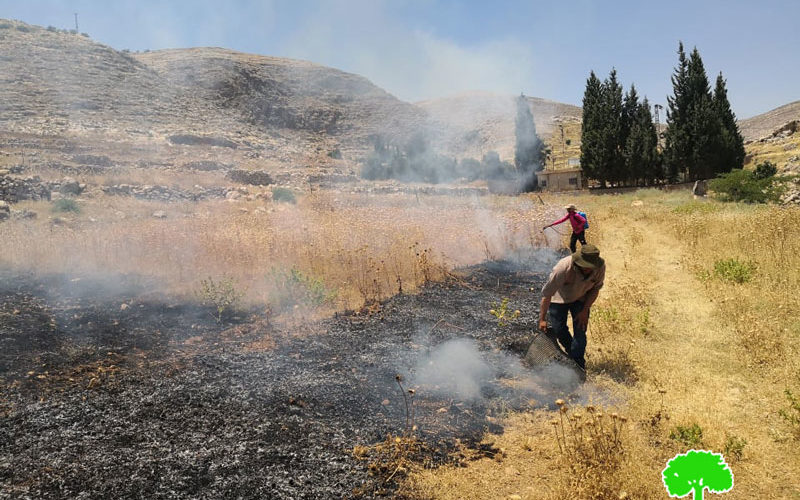 Violation: Setting fire in barely fields.
Location: Ein Samiya – Kafr Malik / Ramallah and Al-Bireh governorate.
Date: June 15th 2020.
Perpetrators: A group of settlers.
Victims: 3 families from the area.
Description:
A group of fanatic settlers set fire in the eastern fields of Ein Samiya northeast Ramallah and Al-Bireh governorate , the fire ate up 32 dunums of barely fields.
The targeted lands surround the bypass that penetrates Ein Samiya  and connects several colonial clusters.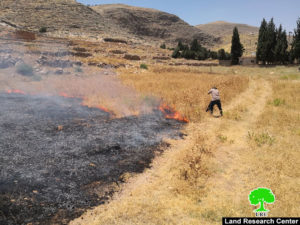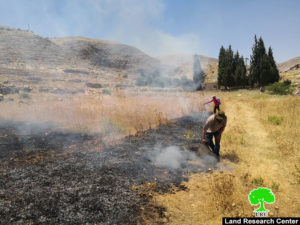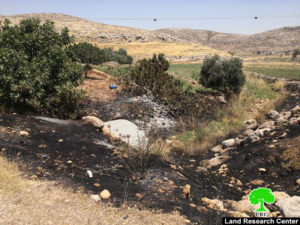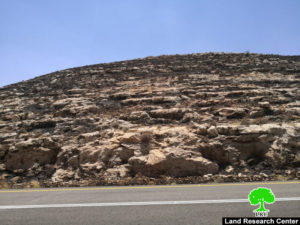 Photos 1-4 : The targeted fields
The attack had a cruel impact on farmers Khalid Gneimat , Juma'a Ghneimat and Abdul Kareem Ghneimat , as users of the lands.
Khalid Ghneimat (52) told LRC about the Arson attack:
"I have been living in Ein Samiya with my family of (11) , and my brothers and their families for more than 14 years . Every season , we plant the targeted fields with barely to provide feed for our cattle , as we depend on cattle breeding for living , and own together 340 heads of cattle.
Monday evening about 5:00 , a white car with an Israeli registration plate parked nearby the fields , and a few settlers got out and poured fire accelerants on the barely then sat it on fire before ranning away. People of the village came to help us to stop the fire but the flames ate up the entire field , we normally produce 15 tons of feeds , which makes this a great loss for us."
 Ein Samiya is a historical site and consists sites of archaeology from the Romanian , Ottoman  and many other eras, Eis Samiya  floats over number of artesian wells provide water for Ramallah , Al Bireh and surrounding Palestinian communities After Oslo agreement, the occupation had declared Ein Samiya as area C.
since then, Israelis committed several assaults against farmers and resident of Ein Samiya. Noteworthy, the area contain several outposts inhabited by radical religious illegal settlers.