Israeli Occupation Forces notify agricultural structures with Stop-Work in Salfit governorate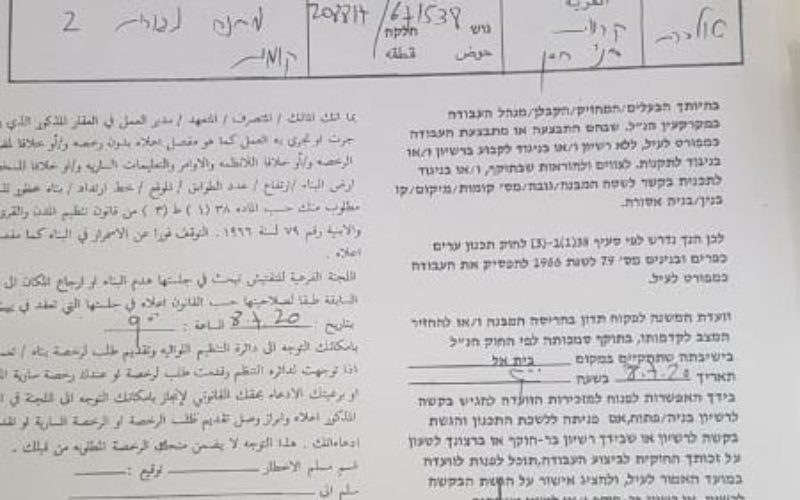 Violation:  serving stop work notices on structures
Date: June10, 2020
Location:  QarawatBani Hasan village
Perpetrators: Planning and Construction Committee- Israel Civil Administration
Victims: 5 Palestinian families
Details:
On Wednesday of June 10, 2020, the so-called Planning and Construction Committee- Israel Civil Administration served stop work orders on residential and agricultural structures owned by 5 families from QarawatBani Hasan village under the pretext of unlicensed construction within area classified C according to Oslo Accords.
Noteworthy, the targeted structures are located in the areas locally known as "Wad Khalil" and "Deir Abu Ammar".
 According to military order, the two families were given a deadline until July08, 2020 as a final date to complete all licensing procedures. This comes in time with the session of the Planning Committee in Beit El court to consider the status of the notified structures.
The following table details information about the affected structures:
| | | | |
| --- | --- | --- | --- |
| Affected citizen | Family | Type of structure | No. of military notice |
| Mohammad Mer'i | 10 | A 75m2 residence | |
| Abdel Aziz Mer'i | 5 | A 450m2 barracks for livestock | |
| Ibrahim Mer'i | 9 | A 60m2 residence | |
| MahoudMer'i | 7 | A two-story building with total area of 250m2 | |
| Mohammad Asi | 9 | Water cistern (80m3) | 31034 |
| Total | 40 |   |   |
Source: Direct Field Investigation- Department of Monitoring Israeli Violations- Land Research Center-2020
Photos 1-4: some of the targeted structures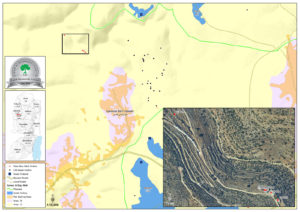 It should be indicated that the Israeli Occupation Authorities delivered during April and May stop-work notification for 26 Palestinian families, targeting their water cisterns, residential rooms, and 14 houses on the claim of building without proper license. Noteworthy, the targeted families live in northern and eastern neighborhoods of the village, which are founded opposite to HifatYa'ir Israeli outpost. The said outpost is expanding rapidly at the expense of Palestinian lands from the area.
QarawatBani Hassan:
The village of QarawatBani Hassan is located 12 km northwest of the city of Salfit, and is bordered to the north by the village of DeirIstiya, to the west by the village of Bidya, to the east by the villages of DeirIstiya and Haris, and to the south by the village of Sarta.
Its population is 5513 people according to 2017 census.Its total area is 9,443 dunums, of which 565 dunums are built-up area of the village.The Israeli settlements confiscated an area of 324 dunums of the village's lands, as followed:
144 dunums for the construction of the settlement of Barkan which was established in 1981 and I inhabited now by 1981 settler;
180 dunums for the building of KiriyatNetavim settlement established in 1982 and inhabited by 891 settlers.
Moreover, 129 dunums were captured for the construction of settlement bypass rad No. 5o5.
The village Land classifications according to the Oslo Agreement:
Areas classified as B (849) dunums.
Areas classified as (8,594) dunums.