Fire ate up 104 olive trees in Turmusayya / Ramallah governorate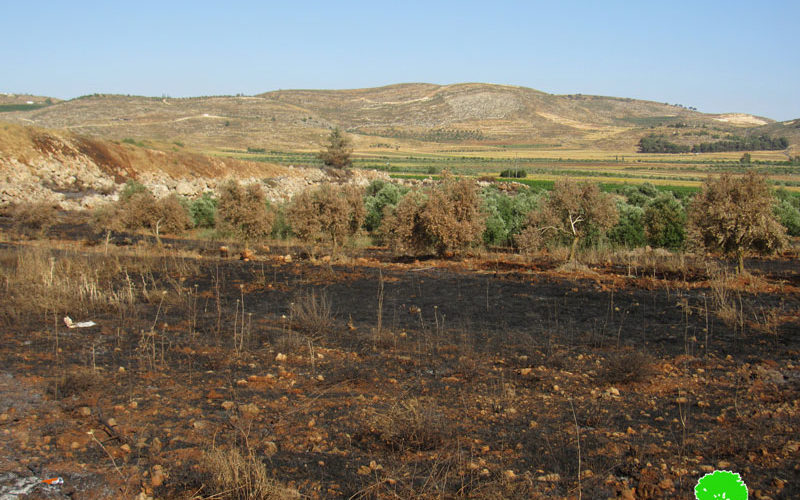 Violation:  Arson Attack targets 104 olive trees.
Location: Turmusayya – north Ramallah.
Date of violation: June 3rd 2020.
Perpetrator: the industrial zone of "Shilo" colony.
Victims: 7 farmer families from Turmusayya .
Description:
Wednesday morning, June 3rd 2020, a fire broke out at a factory in the industrial zone of "Shilo" colony and ate up at least 104 olive trees (33 trees were completely damages, and 71 were partially damaged), large number of farmers from the nearby town of Turmus'ayya rushed to the location and managed to stop the fire that continued for four hours, and ate up vast areas of Turmus'ayya lands.
Owner Ali Al-Kouk (63) told LRC the following:
"I own 17 dunums in the "Kasousah "area northeast Turmus'ayya and close to the siege that surrounds the industrial area of "Shilo" colony, Most of the plot is cultivated with olive trees (aging 35 years old ) in Turmus'ayya valley. This land provides a source of income, for my family (4 members). Wednesday morning at about 10:30 am, a massive fire broke out inside one of the factories at Shilo's industrial area, and due to the strong winds the fire spread outside the fence surrounding the colony, and reached the olive trees. As a result, about 13 dunums of olive groves were affected by the fire".
More information about the targeted trees:
No.

Name of owner

family members

Completely damaged

Partially damaged

1

Ali Cook

4

22

0

2

Hassan Abu Awad

6

0

12

3

Awad Hammoud

9

0

8

4

Awad Abu Awwad

5

0

12

4

I'mar Abu Awwad

7

0

4

5

Ibrahim Cook

2

0

6

6

Awad Abdullah Muhammad Abu Awad

7

11

29

Total

40

33

71
Source: Israeli Violations Monitoring Section – Land Research Center – June 2020.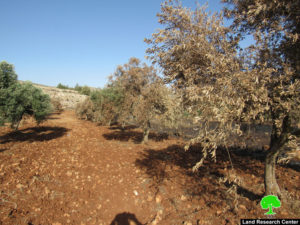 Photos 1-5: Olive groves following the massive fire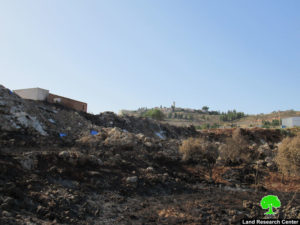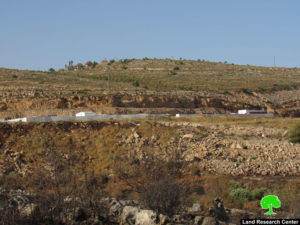 Photos 6-7: The Industrial area of Shilo colony
It is noteworthy that the town of Turmusayya is a target for colonists' frequent attacks especially the Dhahrat and Sidr areas. LRC reporters documented cutting and vandalizing hundreds of olive trees during the last five years on the hands of 'Adei Ad.
About Turmus'ayya:[1]
 It is located 25 km to the north east of Ramallah city. It has a population of 3736 people (according to a 2007 census). Its total area is 18139 dunums, 1350 of which are built-up area. About 11218 dunums of land are under Area B (PA is in charge of civil matters with Israel responsible for security) and 6921 dunums are under Area C (Israel maintains full security and administrative control).
The Israeli occupation confiscated vast areas of the village for the benefit of the following colonies:
Shilo and Mizpe Rahel devoured 1023 dunums
Mizpe Rahel  devoured 706 dunums
The bypass road number 60 stole 12.5 dunums
[1] GIS-LRC