Demolishing Residential and Agricultural facilities in Deir Abu Hajleh area – Jericho governorate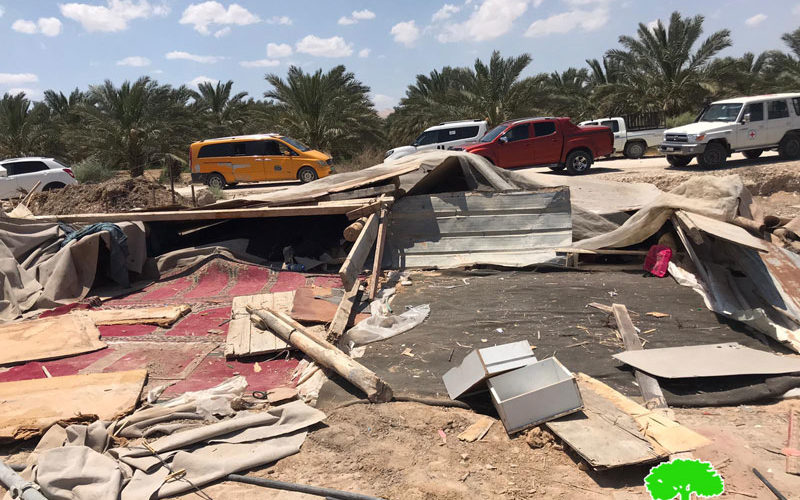 Violation: demolishing residential and agricultural facilities.
Location: Deir Abu Hajleh area/ Jericho Governorate.
Date: June 3rd 2020.
Perpetrators: the Israeli Occupation Forces.
Victims: 5 families from the Abu Dawood Bedouin clan.
Description:
Wednesday morning, June 3rd 2020, the Israeli Occupation Forces accompanied by the so-called Civil Administration, stormed Deir Abu Hijleh area, east Jericho and demolished five residential tents and two agricultural tents, under the pretext of building without a permit.
The targeted facilities are built of basic materials (Canvas, woods, and metal bodies) and belong to five families: 23 people, 11 of them are children.
The following table shows more information about the violation:
Victim's name

# family members

Type of destroyed structure

Notes

Ibrahim Abu Dawood

7

-60 m2  residential tent

– 12 m2 store tent

– 12 m2 poultry tent

Previously  demolished

Fatima Abu Dawood

3

-45m2 residential tent

Previously demolished

Ahmed Abu Dawood

3

-48m2 residential tent

 

Muhammad Abu Dawood

3

-36m2 residential tent

 

Nasser Abu Dawood

7

-60m2 residential tent

 

Total

23

 

 
Source: Field Observation – Israeli Violations Monitoring Section- Land Research Center, June 2020.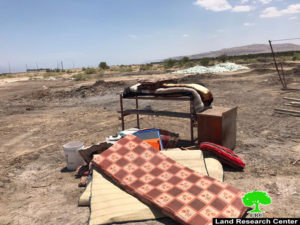 1-7: The rubble of the citizens' structures after the demolition
It should be noted that the affected families work in agricultural and own palm farms surrounding Deir Hajleh area. In 2014, the owners received halt of work notices for the targeted tents on the pretext of building without a license.
Reportedly, during the last three years , the Occupation authorities  demolished structures Uprooted tens of palm saplings , and destroyed vast areas of lands in deir Abu Hajla and Az-Zur areas. Noteworthy, the Occupation claim that most of the targeted lands area governmental properties, and another part were closed as they or on the Palestinian-Jordanian borders, In fact Abu Al-Hajla lands are the property of the Latin Patriarch.
Recently, the occupation intensified harassments against farmers in the area , through imposing more restrictions and prohibit movement , and ending with a demolition operation to empty the area and implement a colonial project.
Legal Feedback:
Targeting Palestinians' houses is a violation of international conventions and agreement such as:
Article 147 of Geneva fourth convention: extensive destruction and appropriation of property not justified by military necessity and carried out unlawfully and wantonly. ( it is considered a serious violation of the convention)
Article 53 of Geneva fourth convention that forbids destroying properties: Any destruction by the Occupying Power of real or personal property belonging individually or collectively to private persons, or to the State, or to other public authorities, or to social or co-operative organizations, is prohibited, except where such destruction is rendered absolutely necessary by military operations.
Article 33 of Geneva fourth convention: No protected person may be punished for an offence he or she has not personally committed.