Settlers sabotage 35 olive and almond saplings in Al-Mughayyir village / Ramallah governorate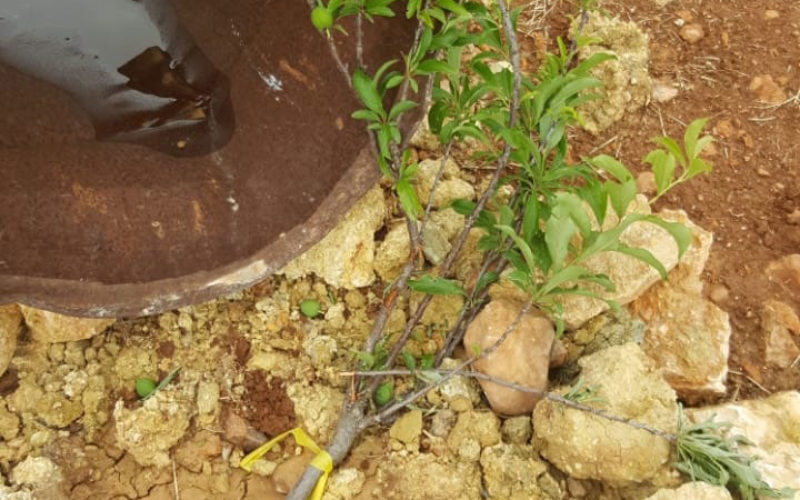 Violation: sabotaging olive and almond saplings.
Date: May 7th 2020.
Location: Al-Mughayyir village / Ramallah governorate.
Perpetrator: The Israeli Occupation forces.
Victims: Farmers Sameer Abu 'Alya and Rawha An-Na'asan.
Description:
Olive trees symbolize Palestinian steadfastness; it is also a reflection of Palestinian existence and love to their land, the Israeli occupation is trying its best to tear that out , through vandalizing olive trees and prohibiting planting new ones especially in C area.
In the early evening hours of Thursday May 7th , the Israeli occupation forces raided "Abu Al-Hanoun" area , close to the eastern entrance of Al-Mughayir village , and carried on sabotaging 35 olive and almond saplings aging three years old, they also sabotaged a siege (120 m long), this is only a part of the Israeli occupation's measurements that hinder any agricultural projects.
The targeted saplings belong to farmer Sameer Abu 'Alya (45) , who supports a family of 9 , 4 of them are children. The occupation forces sabotaged 10 olive saplings and  5 almond saplings aging three years old , in addition to the siege that surrounds the land.
Sameer's neighbor Rawhi An-Na'asan (69) who supports a family of four,  was also a victim of the attack , the occupation forces demolished 20 olive saplings aging two years old planted on a plot with a total area of half a dunum.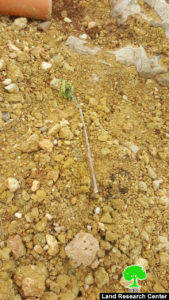 One of the victims , Sameer Abu 'Alya told us about this Crime:
"Two months ago, I started rehabilitating my land , I planted it with a variety of crops and surrounded it with a siege , to protect it from wild animals .
The occupation forces forced us to leave the plot in Thursday morning, and we came back to find out that they sabotaged number of saplings . The next morning, we filed a complaint to the Israeli police through the Palestinian Liaison Office, the police registered an attack by an "Unknown" , and nothing was done to stop the attacks."
Al Mughayyir:[1]
Al Mughayyir is located 30 km to the north east of Ramallah; it is inhabited by around 3,249 people according to the PCBS statistics conducted in 2017.
Most of the village agricultural fields are located in its eastern parts; its total area is 33055 dunums, 501 of which are built-up area.
The Israeli occupation confiscated 37 dunums of Al Mughayyir lands for bypass #458. 
According to Oslo Accords, about 95% of the village is under Area C while only 5% is under Area B.
Area B: 1,695 dunums
Area C: 31,360 dunums
[1] GIS-LRC