Settlers of "Revava" cut down 150 olive saplings in Haris Vallage / Salfit governorate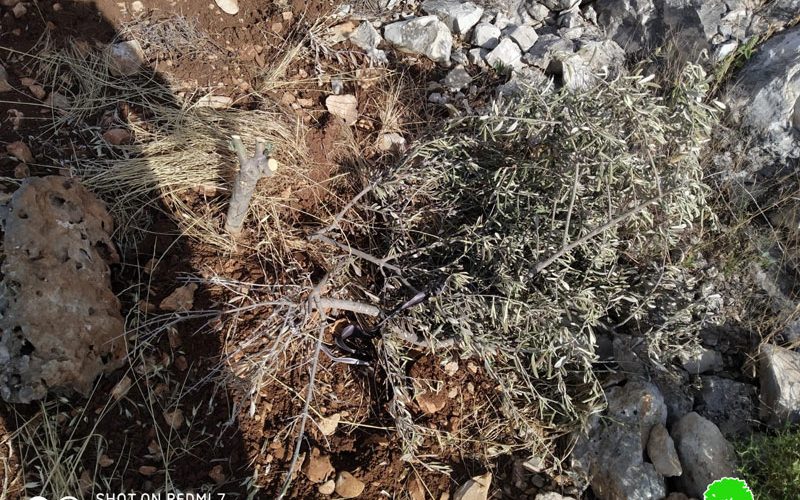 Violation: Radical settlers attack Palestinian olive groves.
Location: Haris village / west Salfit city.
Date: May 24th 2020.
Perpetrators: Settlers of "Revava".
Victims: heirs of Yacoub Sultan.
Description:
In the early morning hours of Sunday May 24th 2020, which happens to be the first day of Eid Ul-Fitr, a group of settlers from Revava colony cut and stole 150 olive saplings aging five years old from an olive grove in Haris village , the fanatic settlers used sharp tools to sabotage the trees.
The targeted olive grove belongs to heirs of Yacoub Sultan from Haris village , one of them (Amjad Yacoub) told LRC:
"Few years ago, we planted olives in the plot we inherited from my father, with the intention to protect it and halt Revava's continuous expansion which is now devouring vast areas of lands in Haris and Deir Istiya, but we were shocked of settlers sabotaging 150 olive trees under the protection of the occupation forces , we tried to file a complaint to the Israeli police , but they told us that Security coordination between the PA and Israel has ended, and they wouldn't accept any complaints."
Yacoub asserted:
"During the recent years, the Israeli occupation laid their hands on part of our plot for the favor of expanding Revava illegal settlement , and now we received a notice on the rest of the plot, under claims of "threatening settlers' security", at the time they attacked us several times while we were working on our land, and now they uproot our trees , in an attempt to uproot us from our lands.
Photos 1-4: the remains of the sabotaged trees
Haris village council head Omar Dawoud told LRC:
"The occupation is active day and night to expand Revava's area and eat up more and more of Palestinian lands, the settlement's is 3 times bigger than it was when it first established."
About Revava colony:
The colony of Revava started in 1991 on confiscated lands from Deir Istiya village. It totals 1540 dunums in area, of which 436 are the colony's built up area. Revava has a total population of 703 .
The colony of Revava, since its establishment, formed an obstacle in the face of the Palestinian building movement in the area of Deir Istiya in addition to the confiscation of vast area of agricultural lands and the ban on sheep grazing in the periphery of Israeli colonies.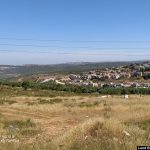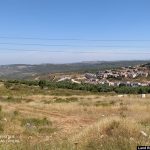 Photos 5-6: Revava illegal settlement built up on Palestinian olive groves
About Haris[1]:
Seven km to the northwest of Salfit governorate, Haris is located with a total land area of 8769 dunum, of which 190 dunums are the village's built-up area. Haris is surrounded by the villages of Deir Istiya from the north, Kifl Haris from the east, Kfar ad-Dik and Bruqin from the southwest and Qarawat Bani Hassan from the west.
It has a total population of 3740 people according to the census of Palestinian Central Bureau of Statistics for 2009. Those people hail from the following families: Abu Atta, Dawoud, Salamih, Sultan, Shihada, Souf, Faz', Awwad, Qasim, and Klaib. The Israeli occupation confiscated 3631 dunums from the village as follows :
Israeli colonies confiscated 2672 dunums as detailed in the below table
| | | | |
| --- | --- | --- | --- |
| colony | Year of establishment | Confiscated area\dunum | Number of colonists |
| Kiryat Netafim | 1982 | 188 | 384 |
| Revava | 1991 | 269 | 703 |
| Burkan | 1981 | 177 | 1207 |
| Burkan Industrial | 1981 | 1346 | — |
| Ariel Industrial | — | 692 | — |
| Total |   | 2672 | 2294 |
726 dunums were confiscated to open the bypass roads numbers ( 505, 4765, 5506)
The apartheid wall confiscated 233 dunums for its establishment. Upon its completion, the wall will isolate 7135 dunums
According to Oslo Accords, the lands of Haris are classified as follows:
631 dunums are classified as area "B"
7815 dunums are classified as area "C"
[1] GIS – LRC.