Halt of work notice target an agricultural facility in Dhohr Al-Abed / southwest Jenin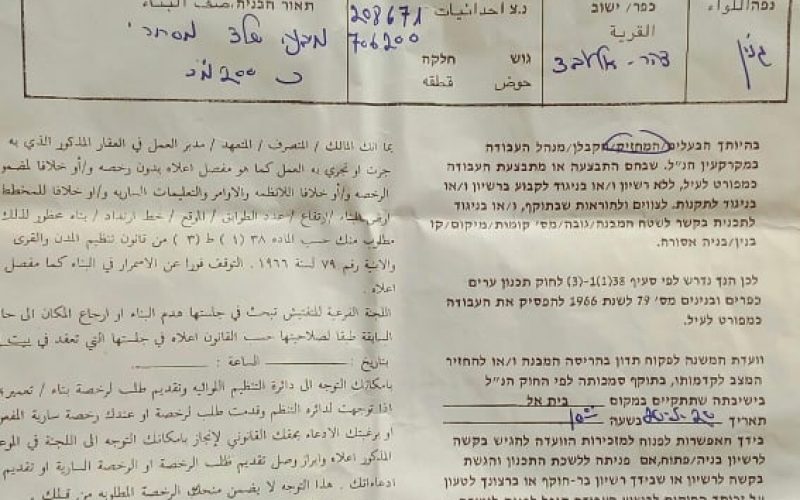 Violation: Halt of work notice.
Date: May 05th 2020.
Location: Dhohr Al-Abed / southwest Jenin.
Perpetrator : The Israeli Occupation Civil Administration.
Victims: Citizen 'Ameed 'Amarneh.
Description:
Tuesday May 5th 2020, The Israeli Occupation forces accompanied by an officer from the building and organization department raided Dhohor Al-Abed area south west Jenin, and targeted an under construction facility with a halt of work notice on the pretext of building without licenses, the targeted facility contains four under construction stores with a total area of 220m2 that belong to 'Ameed 'Amarneh from Dhohor Al-Abed.
According to the military order numbered (30182) , the occupation set May 20 as the date of the building and organization session in Beit El military court to decide the fate of the structure.
Affected citizen told LRC:
"Early 2019 , I built stores on the main street to create a source of income for myself , as I cannot find a job and I am a supporter for a family of 7 , 3 of them are children, the construction caused about 27,000 $ , the occupation forces showed up and served a demolition order , noteworthy this is the only plot I own and able to invest in , but the occupation still follows us whenever we go."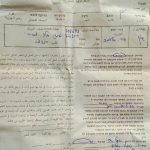 According to Dhohor Al-Abed's village council statistics, the occupation targeted more than 9 facilities with halt of work orders , all of them were issued after the construction of the apartheid wall in 2002.
The arbitrary occupation also continues to close the village's eastern entrance that leads to Barta'a checkpoint , which contributes in suffocating the village.
Khirbet Dhohor Al-Abed:
It is a small village only 26th km west Jenin , surrounded by Zebda (east and north) , 'Akaba (west) and Qufin (south) . Dhohor Al-Abed has a total area of 660 dunums, while the town has a built up area of 80 dunums , and most of the town's lands are in C area. The village has a population of 467 people until 2017, most of them depend mainly on agriculture as a main source of income.