Fanatic colonists escalate attacks against farmers and farmlands/ Hebron Governorate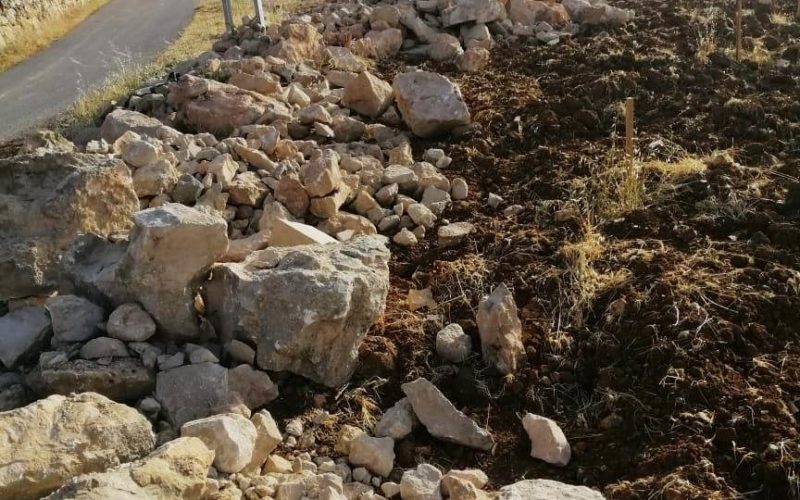 Terrorist settlers carried out a number of attacks against land, trees and crops in different parts of Hebron governorate as followed:
Al- Bouira – Hebron:
"Kharsina" colony was built in the 70s  of the last century on Al Bouira land as a new segment of Kiriyat Araba' in Hebron . About three years ago, Kharsina colonists established a new outpost at a hilltop outside the borders of the colony as they brought a mobile home and put it at the location.
Palestinian citizen Ibrahim Eida owns a 3 dunums plot , about one year ago Eida with the help of The Ministry of Agriculture managed to plant 150 olive and grapes saplings in the plot and surrounded it with retaining walls, hoping to protect it from colonial schemes.
Eida told LRC the following:
 "On May 22nd 2020, I received a phone call from one of my neighbors , telling me that four colonists invaded my land and  uprooted  the grape saplings. I, also, received another call on June 3rd 2020, in which I was informed that a settler named "Yossi" drove his tractor into my land and destroyed the retaining walls surrounding it. As a result of these attacks, 40 grape saplings were uprooted and 70 m long retaining wall was destroyed".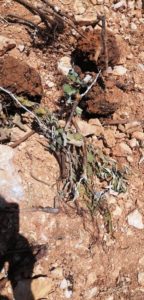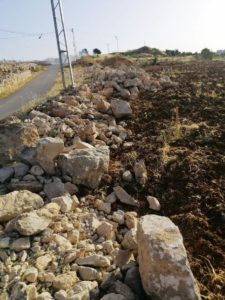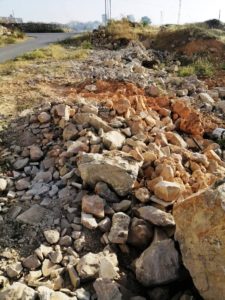 Photos 1-3: Colonists destroy a land belongs to Eida
2- Setting fire to a crop east Al-Tuwani:
On May 25th 2020, people of At-Tuwani village, east of Yatta, woke up to a fire in agricultural lands owned by the Raba'i family.
The Perpetrators are believed to be "Havat Ma'on" illegal colonists , who carry out regular attacks against farmers and their lands.
The fire destroyed about one dunum of land cultivated with barley and belong to brothers Mufdi and Fadel Rabe'i.
3- Looting a crom in the Tawamin area:
Citizen Barakat Mahmoud Mur reported that illegal colonists of "Havat Dalia" (also known as Yaqoub Dalia) outpost had attacked his agricultural lands and stole bales of hay and destroyed other agricultural tools.
Citizen Mur owns a large plot of land in the Tawamin area, east of Yatta, and to the east of the village of Manizel.  Nearby this area , illegal colonists established "Havat Dalia" outpost, many of this outpost's colonists are herders .
Citizen Barakat Mur indicated that colonists destroyed the door of a cave in his land, in order to loot the crop.
He also added that the colonists had destroyed "plastic pipes" connected to a cistern in his land that is used to provide water to his cattle and trees.