Demolition of residential and agricultural facilities in Sahel Al-Buqai'a / Tubas governorate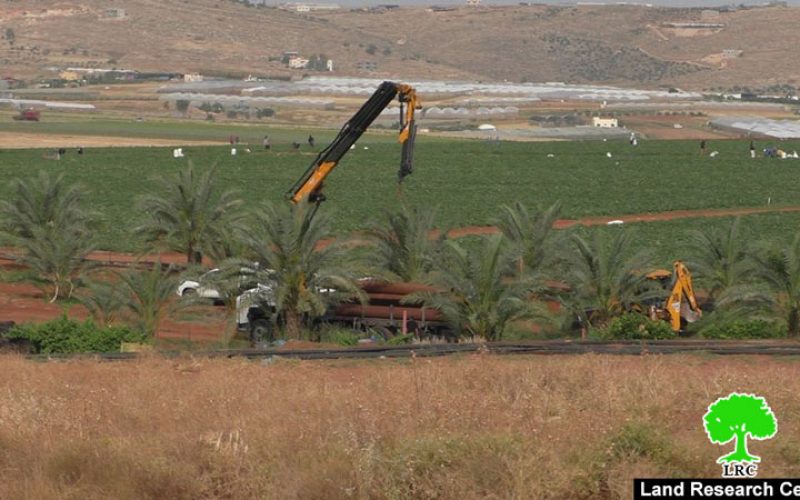 Violation: Demolishing a tent and a barn and confiscating water pipes.
Location: Ar-Ras Al-Ahmar and Sahel Al-Buqaia' east Tubas.
Date: May 14th 2020.
Perpetrator: The Israeli Occupation forces/
Victims: Al-Buqaia' agricultural development company , two families from Ar-Ras Al-Ahmar.
Description:
Thursday , May 14th 2020, The Israeli Occupation forces accompanied by an Israeli military bulldozer raided Ar-Ras Al-Ahmar east Tubas governorate, and carried on demolishing a residential tent and a barn on the pretext of building in a closed military zone (according to Israel).
In the same context, the occupation forces confiscated water pipes for Al-Buqaia' agricultural development company  and owned by Mowafaq Daraghmeh, the confiscated properties are about 25 metal pips (8 m long) and provide irrigation water for 120 dunums planted with a variety of vegetables.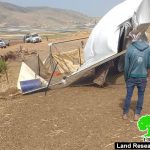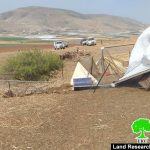 Photos 1-2: The targeted barn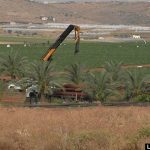 Photo 3: The IOF confiscating the pipes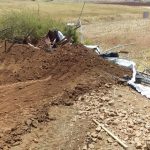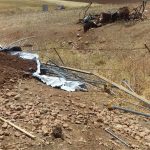 Photos 4-5: The targeted house
The following table shows more information about the damages:
| | | | | |
| --- | --- | --- | --- | --- |
| Affected citizen | Family members | Children under 18 | Nature of the damage | notes |
| Saqer Bani Oudeh | 12 | 3 | A residential tent built of steel sheets with a total area of 60 m2 , and donated by ACTED | The owner was subjected of demolition 7 times in a raw |
| Suliman Bani Oudeh | 8 | 2 | A barn with a total area of 36 m2 | was subjected of demolition several times |
| <owafaq Ad-Daraghmeh / Al-Buqaia' agricultural development company |   |   | Confiscating 25 water lines with a total area of 8 m | The targeted pipes irrigate 120 dunums |
|   | 20 | 5 |   |   |
Khirbet Ar-Ras Al-Ahmar: [1]
23 km southeast Tubas city,  Ras Al-Ahmar has a population of 74 people in 2017 census. The Khirbet has a built up area of 36 dunums , Ras Al-Ahmar is considered a part of Tubas and all of the Khirbet's lands are classified in C area according to Oslo accords. The occupation confiscated about (10362) dunums from the Khirbet lands for the following purposes:
Israeli settlements devoured about 4324 dunums , as the following:
| | | | |
| --- | --- | --- | --- |
| settlement | Establishment year | Area of the settlement | Number of settlers in 2018 |
| Beka'ot | 1972 | 2,404 | 215 |
| Hemdat | 1980 | 316 | 275 |
| Ro'i | 1967 | 1,604 | 174 |
8 Israeli military camps surround the settlement with an area of (6,038) dunums.
Israeli Demolition policies and international law:
The Israeli occupation demolition policies are not and never have been leaded by security purposes or military necessities but came to achieve colonial goals, Specifically, constructing settlements.
The occupation authorities throughout their repressive policies that aim to displace Palestinian people or cram them in small areas seek to take over as much as possible of Palestinian lands. Such measurements are a violation of international conventions and agreements:
Article 147 of Geneva fourth convention: extensive destruction and appropriation of property, not justified by military necessity and carried out unlawfully and wantonly. ( it is considered a serious violation of the convention)
Article 53 of Geneva fourth conventionthat forbids destroying properties: Any destruction by the Occupying Power of real or personal property belonging individually or collectively to private persons, or to the State, or to other public authorities, or to social or co-operative organizations, is prohibited, except where such destruction is rendered absolutely necessary by military operations.
Article 33 of Geneva fourth convention:No protected person may be punished for an offence he or she has not personally committed.
Article 32 of Hague convention 1907 part g:To destroy or seize the enemy's property, unless such destruction or seizure be imperatively demanded by the necessities of war.
Article 17 of Universal declaration of human rights 10 –Dec- 1948:No one shall be arbitrarily deprived of his property.
[1] GIS-LRC