Colonists Write Hatred inciting slogans on Walls of Houses in Beitin village/ Ramallah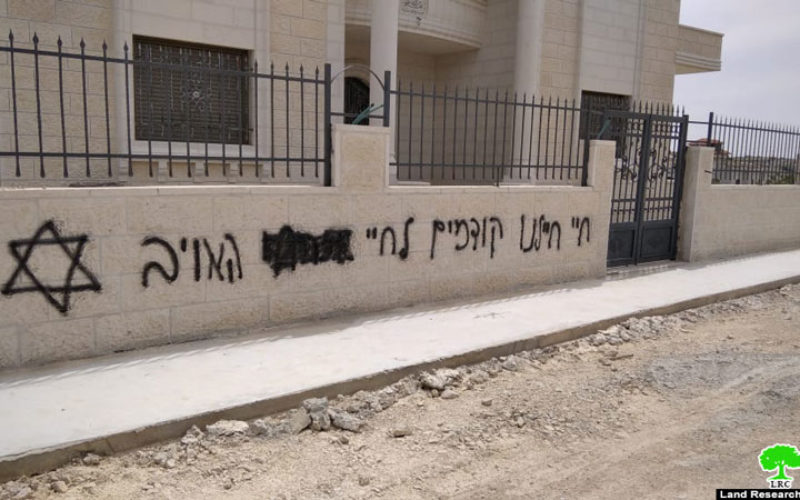 Violation: Writing hatred inciting slogans.
Location: Beitin village / Ramallah governorate.
Date: May 13th 2020.
Perpetrators: Illegal colonists.
Victims: People of Beitin village.
Description:
In the early morning hours of Wednesday, May 13th 2020, two illegal colonists sneaked to Beitin village, and wrote hatred inciting slogans on the walls of two houses at the village then ran away.
Land research center reporter talked to wetness Samir Hamid (35) , who narrated the details of the violation:
"In May 13th 2020 , about 2:45 am , I was awake doing reparation works at my house west Beitin.  My house is built nearby the village cemetery, and the area is usually peaceful, I heard a spraying voice outside, I looked and I saw two colonists wearing caps using a colored spray to write hating slogans on the walls of a villa at the other side of the street.
I was afraid that they may be armed, so I called the nearest neighbors to come over, the fanatic colonists heard me talking on the phone and ran away towards bypass 60 (1 km away from the village) . We approached the villa and we saw that they wrote in Hebrew what was translated into the following ((Our soldiers' lives is more important than our enemies' lives)). We also found out that they wrote on a nearby old house ((We won't leave until blood in shed here)). Noteworthy, such attacks have been occurring excessively in Beitin and the surrounding villages.
Land Research Center field researcher reported number of colonists assaults on Beitin represented in writing hatred inciting slogans on house walls, sabotaging properties, and slashing car tires, and despite the complaints to the Israeli police nothing was done to stop such hate crimes.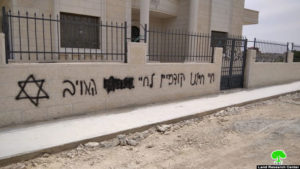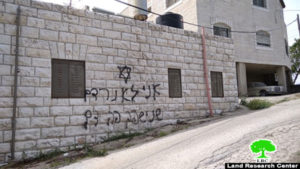 Photos 1+2 : The hatred inciting slogans written by colonists