Settlers release their cows in Wad Al-Malih area / Tubas governorate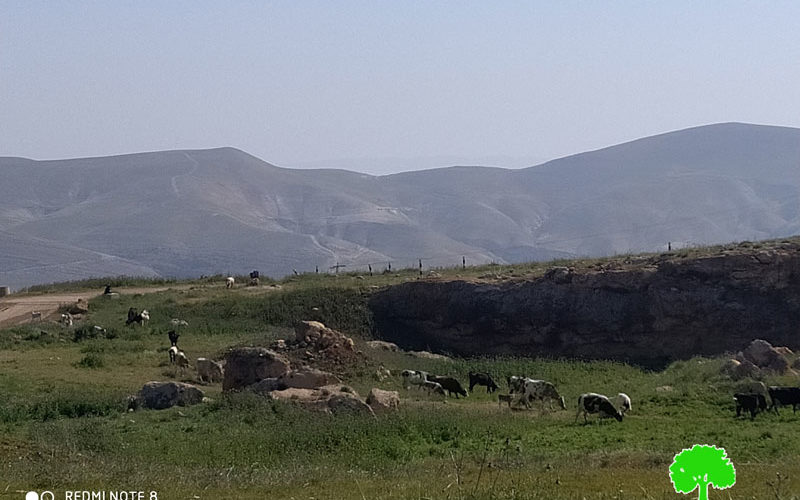 Violation : Releasing cows in agricultural lands.
Location: Wad Al-Malih – The Jordan Valley.
Date: April 16th 2020.
Perpetrator: "Meskeyot" settlement.
Victims: farmers and ranchers in the Jordan Valley.
Description:
Settlers escalated their attacks on agricultural lands, Bedouins and farmers of the Jordan Valley. Thursday  April 16th 2020 , a group of settlers from Meskeyout settlement released a herd of cows in Umm Al-Quba and Wad Al-Faw areas in the Jordan Valley towards 75 dunums of planted fields.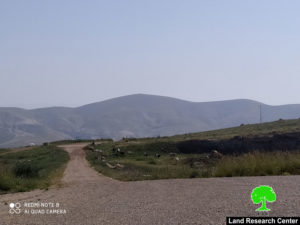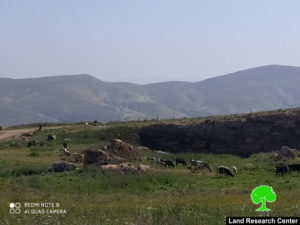 Photos 1+2: cows sabotaging agricultural lands
In the same time, a group of fanatic settlers raided postures in Wad Al-Mlih area and forced Palestinian herders to leave their postures under the threat of guns.
Farmer Ali Az-Zamel from Wad Al-Malih told LRC :
"We , the residents of Umm Al-Quba area depend mainly on agriculture for living , but the occupation forces intentionally carry out military trainings during agricultural seasons and destroy the crop . This year , settlers released their cows in agricultural fields and destroyed the crop before the military trainings , both lead to the same conclusion:  making Palestinian farmers suffer."
Farmer Omar Einbusi from Khirbet Yarza told LRC:
"Due to the lack of possibilities, the only choice we have in the Jordan Valley area is to practice agriculture and cattle breeding, and since the occupation forces and settlers started focusing their attacks on the agricultural sector our lives became unbearable, they demolish our home and destroy our income sources to force us to leave our land for them."
The Israeli Occupation confiscated vast areas from the Jordan Valley , and closed vast areas of postures , then imposed control over water resources, all these measurements had crushed the agricultural sector.