Halting Work on Road rehabilitation in Kafr Ad-Dik / Salfit governorate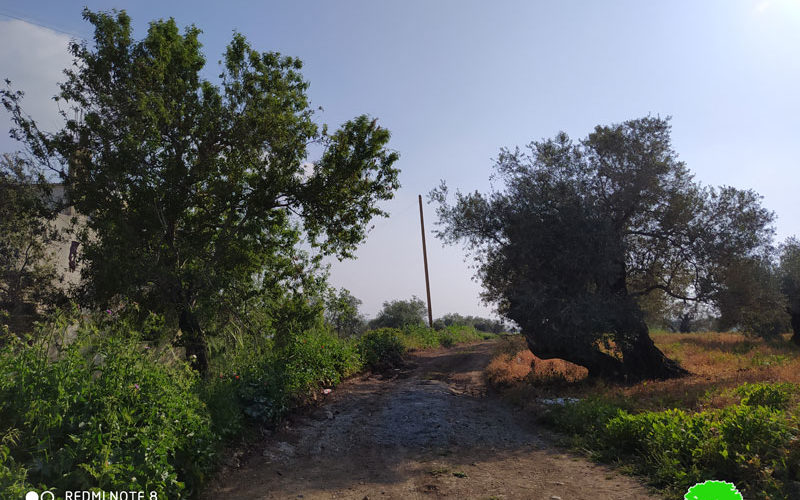 Violation: Halting work on road rehabilitation.
Location: Kafr Ad-Dik town / Salfit governorate.
Date: April 15th 2020.
Perpetrator:  The Israeli Occupation Forces.
Victims: People of the town.
Description:
Wednesday, April 15th 2020, massive army forces accompanied by construction inspector in the Israeli Occupation Civil Administration raided "Dhohor Soboh" area north Kafr Ad-Dik town, and headed to an agricultural road that undergoes rehabilitation works.
The road was being rehabilitated by a JCB bulldozer and a Cutter Pillar Grader belong to citizens (Majid Subhi Ahmed and Rami Tahseen Ahmad) , the halted project was being implemented by Palestinian Agricultural Relief Committee , supervised by the Ministry of Agriculture , and funded by the Spanish organization "Coordination for peace".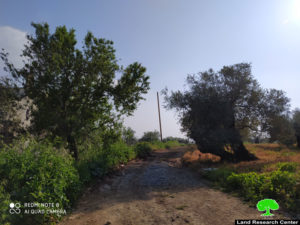 Attached photo: Segment of the targeted road
Palestinian Agricultural Relief Comittee coordinator in Salfit governorate told LRC:
"The targeted road connects Kafr Ad-Dik lands to each other , it is opened since hundreds of years , and now it is being rehabilitated as it serves hundreds dunums of olive groves , and gives a glimpse of hope for farmers to protect their groves , especially that there is an Israeli scheme to establish an outpost in Dhohor Sobeh."
Baker Hamad pointed out that the occupation confiscated machineries and lead them to a military camp, the occupation threatened to destroy the whole street in case farmers and funders insisted onn rehabilitating it.  
Dhohor Subuh area takes 300 dunums at the heart of Salfit governorate, it is on a mountain top and has an amazing view, known for its antiquities and historical significance , it is related to Kafr Ad-Dik and Bidya lands , the area is covered with olive trees , and tens of Palestinian families have been farming the area for centuries.
The area is no longer peaceful after becoming surrounded by many Israeli colonies: Ale Zahav and Bedouel (west) , Ariel , Barkan colonial cluster , and Brukhin (east).
In 2011, the Occupation Forces carried out a massive demolition operation , that destroyed 13 cisterns in addition to several agricultural facilities.
And in 2012, the Israeli government ratified schemes to establish a colonial outpost in Dhaher Soboh , without any official notices. Later, the occupation prohibited agricultural activities and banned Palestinians' access to the area.
 Kafr Ad-Dik:[1] 
Kafr ad Dik is located 15 km to the west of Salfit. It is surrounded by Bidya (north), Rafat and Deir Ballut (west), Bruqin and Sarta (east), and Bani Zaid villages (south).
Kafr ad Dik has a population of 4553 people, according to a 2007 census.
Its total area is 15529 dunums; however, it has been suffocated by bypasses and 3 Israeli colonies that lay over its lands.
This has further limited its expansion knowing that it had already had a 791-dunum organizational plan (built-up area); it also isolated the village from its surroundings.
The Israeli occupation confiscated 2477 dunums of Kafr ad Dik lands for the benefit of:
Colonies devoured 1225 dunums, and they are:
Name of colony

Year of construction

Area of confiscated land/ dunum

Number of colonists

Har Eli Zahav

1983.

134.

339.

Eli Zahav- Yoezer

1982.

290.

424.

Bedoel

1984.

800.

1088.

·

1999.

1.

339.

·

1225.

1512.
*Source: Field Research- Monitoring Israeli Violations Team- Land Research Centre (LRC).
Bypasses stole 362 dunums
The Apartheid Wall seized 890 dunums and isolated 8824 dunums and is expected to be 8905 long in Kafr ad Dik lands.
Lands of Kfar ad-Dik are categorized according to Oslo Accords into lands under Area B (15% of the lands) and lands under Area C (85% of the lands).
[1] GIS-LRC