Halt of work order on an under construction house in Dohor Al-Abed southwest Jenin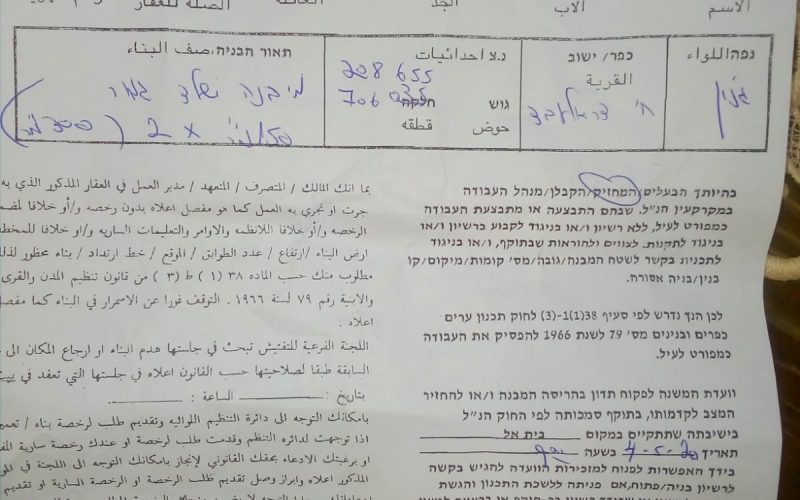 Violation: Halt of work notice on an under construction house.
Location: Dhohor Al-Abed southwest Jenin city.
Date: April 5th 2020.
Perpetrators: The building and organization department – Israeli Occupation Civil Administration.
Victims: Citizen Tareq 'Amarneh.
Description:
Sunday April 5th 2020, the Israeli Occupation forces raided Dhohor Al-Abed southwest Jenin, and the building and organization inspection officer gave citizen Tareq 'Amarneh a halt of work notice on his under construction house which composes of two floors with a total area of 300 m2, on the pretext of building without licenses in C area..
According to the military order number (20181) , the occupation set may 5th as the date of the subcommittee session in Beit El military court to decide the fate of the structure.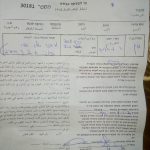 The targeted house was constructed in early October last year and consists of two floors, it is located only 300 m away from the apartheid wall that devours vast areas of the towns lands. Noteworthy,The owner supports a family of 6 , 3 of them are children.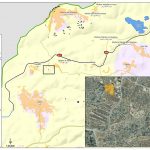 Khirbet Dhohor Al-Abed is one of the Palestinian marginalized hamlets , which was turned into a devastated village as a result of the occupation's continuous attacks and assaults, and since 2000 the occupation have been closing the eastern entrance of the village that connects it to the main bypass road.
The occupation is also imposing great restrictions and limitations on construction and expansion in the area, and with frayed infrastructure and daily Israeli attacks, the only way the people have is to evict the village, which is the occupation's ultimate goal, empting the area from its original people and keep it as  colonial reserve.
Khirbet Dhohor Al-Abed:
It is a small village only 26th km west Jenin , surrounded by Zebda (east and north) , 'Akaba (west) and Qufin (south) . Dhohor Al-Abed has a total area of 660 dunums, while the town has a built up area of 80 dunums , and most of the town's lands are in C area. The village has a population of 467 people until 2017, most of them depend mainly on agriculture as a main source of income.