The Israeli Occupation demolished Retaining Walls in Ni'lin village \ Ramallah governorate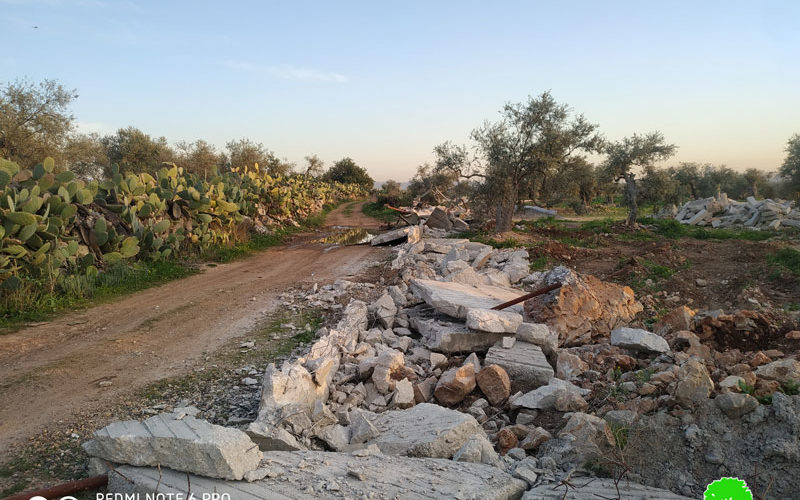 Violation: Targeting an agricultural land.
Location: Ni'lin town \ Northwest Ramallah governorate.
Date: March 5th 2020.
Perpetrator: The building and Organization Committee in the Israeli Civil Administration.
Victims: Citizen: 'Ahmed 'Umaira.
Description:
The Israeli Occupation Forces Accompanied by a Military bulldozer raided the southern area of Ni'linvillage , and carried on demolishing a retaining wall built of strengthened concrete on the pretext of building without a license.
The targeted retaining walls surround a plot with a total area of four dunums that belong to Ahmed 'Umaira (47) built early September 2019, the owner received a halt of work notice numbered (00225) in January 7th2020 .'Umaira prepared his legal papers , and assigned a human rights organization to defend his right.
In February 26th ,the occupation gave the owner a notice, under which the plot should be returned as if it has never been touched by a man within 7 days, once the period ended they showed up and carried out the demolition.
The following table shows more information about the demolition:
| | | | | |
| --- | --- | --- | --- | --- |
| owner | Family members | children | Military order | About the targeted structure |
| Ahmed 'Umaira | 8 | 2 | 60560 | Cement wall (two meters high and 400 m around a 4 dunums plot) |
Photos 1-6 : The demolished retaining walls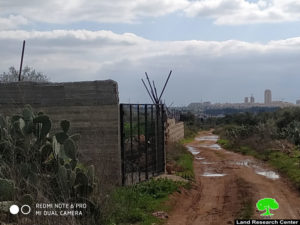 Photos 7-9: The targeted retaining walls before the demolition
About Ni'lin:
20 km to the northwest of Ramallah, Ni'lin is edged by the towns of Qibya and Budrus from the north, Al-Midyah town from the southwest, DeirQidees town from the east and Mod'in and KiryatSefer colonies from the south.
Ni'lin is inhabited by 5897 people on a total land area of 15,206 dunums , of which 748 dunums are the village's built-up area.
The occupation confiscated a total of 3020 dunums for colonial ends, which are detailed as follows:
Hashmona'im colony: it was established in 1985 on confiscated area of 858 dunums from the village. It is now inhabited by 2097 colonists.
KiryatSefer: it was established in 1991 on confiscated area of 476 dunums from the village. It is now inhabited by 24,290 colonists.
Mattityahu colony: it was established in 1980 on confiscated area of 657 dunums from the village. It is now inhabited by 1365 colonists.
Colonial bypass road number 446 confiscated 408 dunums
The apartheid wall confiscated 621 dunums for the favor of its construction and isolated 14,083 behind it.
According to Oslo Accords lands classifications, Ni'lin lands are classified as follows:
1,123 dunums are classified as area "B"
14,083 dunums are classified as area "C"
Demolishing Palestinian houses and facilities is a violation of international convention and agreements such as:
Article 147 of Geneva fourth convention: extensive destruction and appropriation of property not justified by military necessity and carried out unlawfully and wantonly. (it is considered a serious violation of the convention)
Article 53 of Geneva fourth convention that forbids destroying properties: Any destruction by the Occupying Power of real or personal property belonging individually or collectively to private persons, or to the State, or to other public authorities, or to social or co-operative organizations, is prohibited, except where such destruction is rendered absolutely necessary by military operations.
Article 33 of Geneva fourth convention: No protected person may be punished for an offence he or she has not personally committed.
Article 32 of Hague convention 1907 part g: To destroy or seize the enemy's property, unless such destruction or seizure be imperatively demanded by the necessities of war.
Article 17 of Universal declaration of human rights 10 –Dec- 1948:  No one shall be arbitrarily deprived of his property.