Ravaging an Agricultural Road in Masafer Yatta South Hebron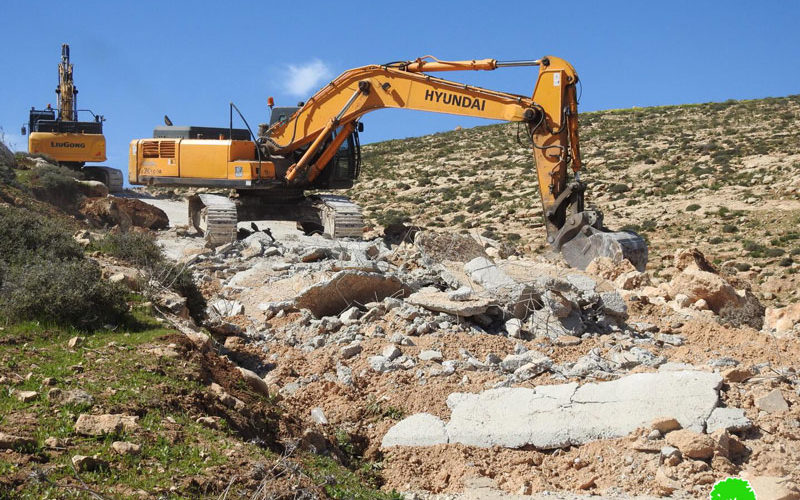 Violation: Ravaging a road.
Date: March 3rd 2020.
Location: Masafer Yatta \ South Hebron.
Perpetrators: The Israeli Civil Administration- An arm of the Occupation Authorities.
Victims: Citizens of Masafer Yatta.
Description:
Tuesday March 3rd 2020, The Occupation's bulldozers ravaged an agricultural road that connects small villages in Masafer Yatta south Hebron, under claims of opening the road without a license from the Occupation.
In the early morning hours, an army force accompanied by a vehicle from the building and organization department in the Civil Administration and two excavators produced by companies Hyundai and Liugong raided Masafer Yatta , and carried on destroying a road all the way from Fakhit village towards She'ab Al-Butum.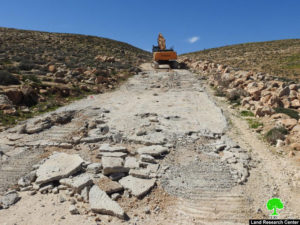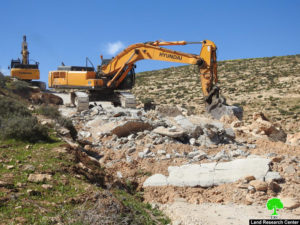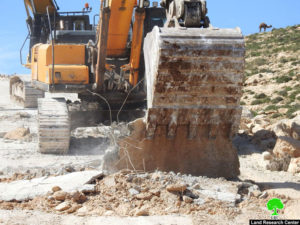 Photos 1-3: shots from the ravaging in Masafer Yatta.
Reportedly, the targeted road is 2.4 km long opened by Masafer Yatta village council in 2017 , the opening was funded by the Local Governance .
In June 26th 2017, the Occupation authorities issued a halt of Work Notice for the road on the pretext of opening without a license , and set July 13th 2017 as the date of the subcommittee session in Beit El military court to decide the fate of road. The village council applied for a license and provided the necessary papers , but the occupation authorities rejected the application, and closed off the road on several occasions.
In the recent ravages , the occupation caused unrepeatable damage. The road was opened through a rough mountainousarea , and covered the dirt road with concrete which facilitated vehicles' movement , but the occupations' machineries completely destroyed it.
The Occupation is imposing restrictive measurements in Masafer Yatta , In February 25th 2020 the Occupation forces closed the road that links Yatta town to She'ab Al-Butum area , nearby bypass 317 , it is reported that military bulldozers put earth mounds on She'ab Al-Butum area and isolated it from Yatta town , they also ravaged the eastern road of She'ab Al-Butum that gives the village another way out.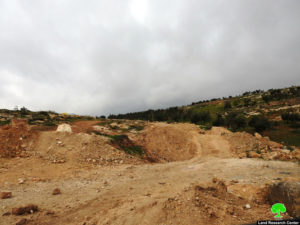 Photo 4 : Closing the road west She'ab Al-Butum.
This time of  the year usually wetness an increase of movement between Masafer Yatta villages  as farmers cultivate their lands and herders search for postures.