Demolition of tents in Khirbet Ibziq / Tubas governorate
Violation: Violating the Palestinian right to housing.
Location: Khirbet Ibziq / North Tubas city.
Date : March 26th 2020.
Perpetrators: The Israeli Occupation army.
Victims: People of Khirbet Ibziq.
Description:
Thursday March 26th , The Israeli Occupation forces dismantled and confiscated 8 residential tents donated by the GVC and were used as a clinic , village council and a mosque .
Noteworthy, the Israeli Occupation's inspection subcommittee raided the Khirbet in Tuesday , and gave a halt of work and construction notice to the owners of the targeted tents , the notice number is (00478) and set May 4th as the date of the building and organization committee session in Beit El military court to decide the fate of the structures , but after only two days the occupation forces showed up and demolished the structures on the pretext of building without licenses.
Reportedly , the attack left the following damages:
Demolishing a Shack with a total area of 30 m2 , that belongs to citizen Abdul Majeed Khdeirat (used as a dwelling for a family of 4).
Confiscating 8 tents , 4 of them are used as a clinic , 4 used as a mosque and a village council (16 m2 for each tent).
Destroying 7 cement boards , and destroying other 3.
Confiscating an electric Motor , a chainsaw and an electric water pump.
Confiscating 25 cement bags.
Confiscating a water reservoir (1.5 cup).
Confiscating sand and construction tools.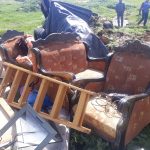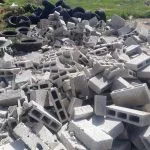 Photos 1-3 : views of the destruction
One of the victims and the village council head Abdul Majeed Khdeirat:
"Early this year , one of the village's people donated a plot for the village's public facilities ,and we brought building materials to construct a mosque and a village council , in March 24th we received a halt of work notices on the construction works , after only two days from delivering the notices the occupation forces showed up and destroyed everything including the Shack I live in."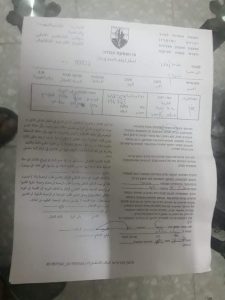 Photo of the notice given to Khdeirat two days before the demolition
Khirbet Ibziq is 8 km east of Tubas and is  a targeted Bedouin gathering, just like the Khirbets of Samra, Ainon and Hamsa. Its inhabitants depend on sheep grazing and agriculture as sources of living and on wood and sackcloth for building their dwellings. They lack basic daily services like water and electricity. They can get water by carrying jars of water from Tubas to Ibziq; a journey of 8 km.
38 Bedouin families live in Ibziq; that is 256 people. 16 out of the 38 families live permanently in the area while others are nomads- according to the head of Ibziq community. Ibziq was named after Bazqin, a religious figure buried in the place.
The area of Ibziq is 8,000 dunums- 5,000 of which are considered Jordanian crown land Bedouins are not allowed to take advantage of because of Israeli continuous attacks, the latest of which were the eviction orders. The lands are considered closed military zone and lands for military practice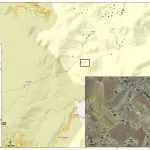 Demolishing Palestinian structures and facilities is a violation of international law:
Article 147 of Geneva fourth convention  : extensive destruction and appropriation of property, not justified by military necessity and carried out unlawfully and wantonly. ( it is considered a serious violation of the convention)
Article 53 of Geneva fourth convention that forbids destroying properties : Any destruction by the Occupying Power of real or personal property belonging individually or collectively to private persons, or to the State, or to other public authorities, or to social or co-operative organizations, is prohibited, except where such destruction is rendered absolutely necessary by military operations.
Article 33 of Geneva fourth convention: No protected person may be punished for an offence he or she has not personally committed.
Article 32 of Hague convention 1907 part g: To destroy or seize the enemy's property, unless such destruction or seizure be imperatively demanded by the necessities of war.
Article 17 of Universal declaration of human rights 10 –Dec- 1948:  No one shall be arbitrarily deprived of his property.