Demolishing an agricultural facility and a rainwater harvesting cistern in Az-Zawiya / Salfit governorate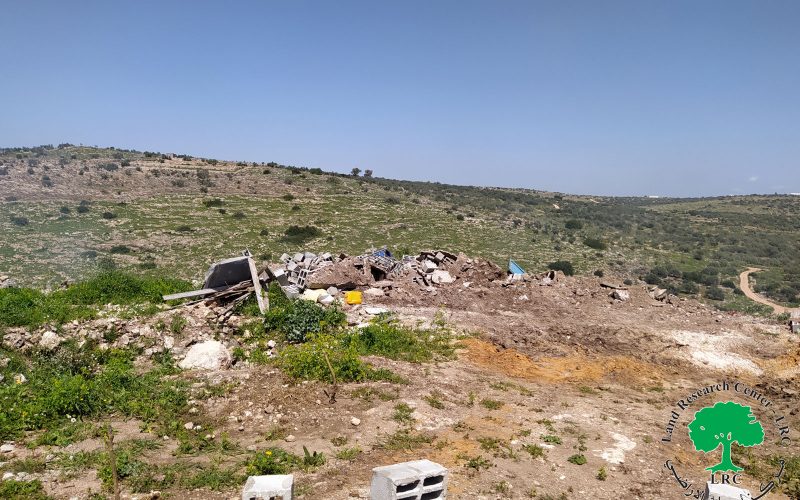 Violation: Demolishing an agricultural facility and a rain water harvesting cistern.
Location: Az-Zawiya – South Salfit.
Date: March 28th 2020.
 Perpetrator: The Israeli Occupation forces.
Victims: Citizen Salah Radad.
Description:
A massive army force accompanied by a military bulldozer raided "Khallet Rumaila" area west Az-Zawiya in March 28th 2020 ,  the targeted area is adjacent to the apartheid wall , the occupation carried on demolishing an agricultural facility (room) built of bricks and steel sheets with a total area of 18 m2, that belong to farmer Salah Radad from Az-Zawiya.
The targeted facility is only 150 m2 to the east of the apartheid wall, which blocks the village from the occupied territories of 1948 (the so called Israel).
Affected citizen told LRC:
"Late last year I built an agricultural room and rehabilitated a dunum and a half that I own in "Khallet Rumaila" area , then I planted the plot with olive saplings , and I started recently digging a rain water harvest cistern to irrigate the plants  . However, the occupation claims that the area is a closed military zone , but as I have an ownership deed that proves I own the land that I inherited from my father, I wanted to make a good use of my plot  and protect it from colonial schemes . Saturday evening, I was shocked of the occupation forces and bulldozers raiding my plot and demolishing the room , then filling the cistern with earth mounds, the occupation claim that they served a military order entitled "an order to remove a building within 96 hours", but In fact I did not receive any military orders, they will never break my well , and I will always remain steadfast in my land".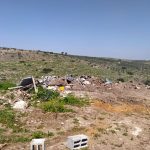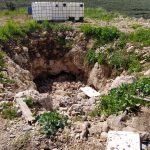 Photos 1-2 : scenes from the demolition operation
 Located 17 kilometer west of Salfit and adjacent to the Green Line, Az Zawiya has a population of 5230 people according to statistics conducted in 2017. 81% of the population depend on agriculture and sheep grazing while the rest work in governmental jobs or private sector projects. Az Zawiya has a total area of 12,000 dunums, 693 of which are a built-up area of the town. Most agricultural lands in Az Zawiya are planted with olive, figs, and cactus.The Israeli occupation confiscated 1747 dunums of Az Zawiya lands for colonies and the Apartheid Wall as the following:
Two colonies are built on Az Zawiya lands. The first is Mazor Atiqa which was built in 1986 and confiscated 573 dunums. The other is Elkana which was built in 1977 and confiscated 57 dunums. Elkana is inhabited by 3050 colonists.
Bypass road number 5 and it devoured 520 dunums of Az Zawiya lands
The Apartheid Wall which destroyed 579 and isolated 4228 dunums