The Israeli Occupation target facilities and a road Birin South Hebron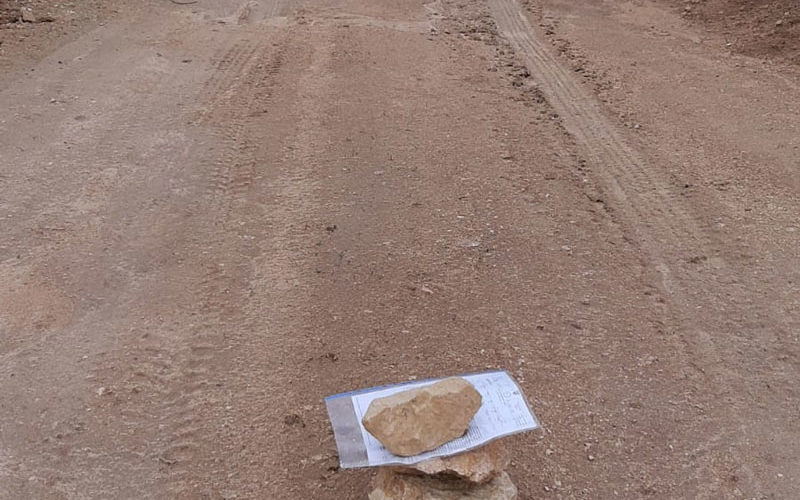 Violation: Confiscating a residence and issuing demolition notices.
Date: February 19th 2020.
Location: Birin – Bani Na'im / Hebron governorate.
Perpetrators: The Israeli Occupation Civil Administration.
Victims: People of the village.
Description:
Wednesday, February 19th 2020, The Israeli Occupation Authorities confiscated a Caravan in Birin village south Bani Na'im in Hebron governorate.
Birin village council head Fareed Burqan told LRC:
 "A massive army force accompanied by a vehicle from the building and organization department raided the village, forced the inhabitants of the caravan to leave, then confiscated it."
The Caravan was inhabited by two sisters Hoson Sa'oud (68) and her sister Zana Sa'oud (65) , they are original from Negev and used to live in a cave in inhuman conditions before A Humanitarian Aid Organization gave them this caravan, but now that the occupation authorities confiscated it, they went back to live in the cave.
Final demolition notice for an agricultural road:
In February 11th 2020 , the occupation authorities issued final halt of work notice and demolished an agricultural road and a room west Birin village, on the pretext of building without licensing ; they gave the owners 7 days to carry out the demolition, before the occupation forces does the operation and make them pay all the costs.
The village council head said that the targeted plot belongs to citizens from Zghayir family in Hebron; they opened a road to their lands and built a room to use it as a resting place and a storage for agricultural tools.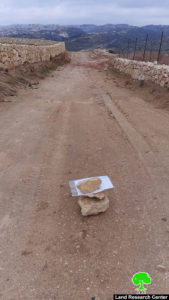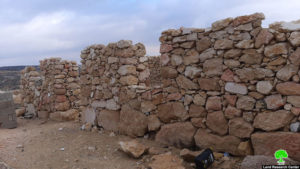 Photos 2+3: The targeted road and room
The Occupation Authorities intensified military orders in Birin village, they heavily target buildings and facilities with removal notices.
 Birin hamlet:[1]
It is located to the southwest of Bani Na'im village and is inhabited by 300 people. The hamlet is edged by Bani Haiver colony from the east and the bypass road no. 60 from the west. Residents of the area were expelled from Negev area and now depend on agriculture and livestock husbandry as main sources of income. The hamlet accommodates one only primary school (1st- 7th grades). Birin (two water wells) was named after two water wells founded in the area.
[1] GIS-LRC