The Israeli Occupation Sets up a Metal Gate in Al-Mazra'a Al-Qibliya / Ramallah governorate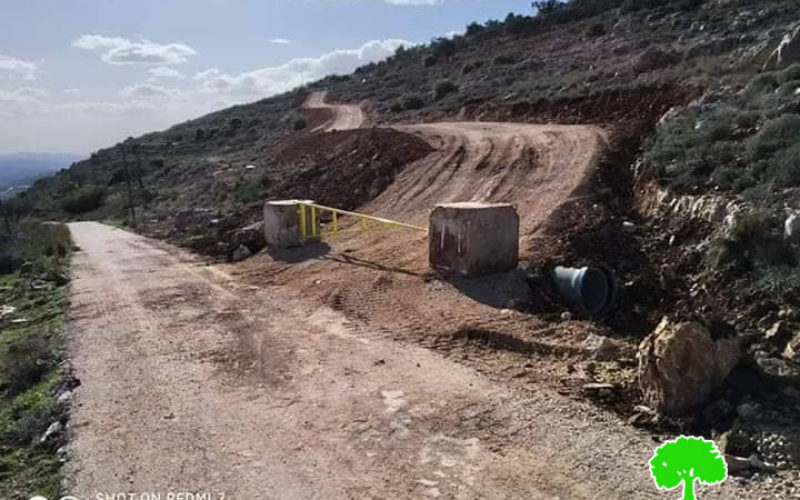 Violation: Setting up a metal gate.
Location: Al-Mazra'a Al-Qibliya / Ramallah governorate.
Date: February 6th 2020.
Perpetrators: The Israeli Occupation Forces.
Victims: Farmers of Al-Mazra'a Al-Qibliya.
Description:
A new episode in the Israeli land grabs series , Thursday morning February 6th , the Israeli Occupation forces set up a metal gate on a colonial road opened in January about 800 m long to connect Horsha illegal colony, to the Archeological area of Ein Harasha , which is considered a main source of water for the village.
The new gate will block vast areas of land, which will facilitate devouring them from their owners, after banning farmer's access behind the gate, knowing that the new colonial road was opened to implement this scheme , and allow Horsha's expansion on Al-Mazra'a Al-Gharbiya lands.
Ein Harasha area has a great significance for people of the village , Agricultural committee member in Al-Mazra'a Al-Gharboua Mr.Abdul Hafiz Samhan told LRC :
"During the last few decades, Ein Harasha was known for its great significance for the surrounding villages, the area was known for its beautiful nature and strategic location, the spring was surrounded by Lemon and Orange groves on 40 dunums that exports its products to all over Palestine and Jordan."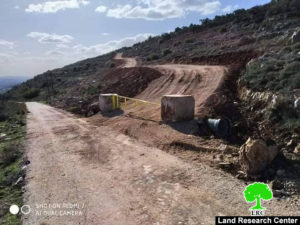 "Horsha" outpost was established in 2006, on 45 dunums of lands confiscated from Al-Mazra'a Al-Qibliya , the Outpost was later connected with roads to Nahliel , Talmon , and Dolev colonies.
Illegal colonists living in Horsha carry out frequent attacks against people of the village , while the outpost is supported by the Israeli government and provided with a handful of facilitiations.
About Al-Mazra'a Al-Gharbiya (Al-Qibliya):[1]
It is located 12km to the northwest of Ramallah city. The village is edged by Abu Shkeidim area from the north, Talmon colony from the west, Abu Qash village from the east, and Ein Qiniya village from the south.
The village has a total land area of 15,275 dunums, of which 1165 dunums are the built-up area. Around 5000 people inhabit the village (2014).
The Israeli occupation confiscated around 329 dunums from the village's lands to establish the colonies of Nahliel (1984) and the colony of Talmon (1989).
Also, the bypass road number 450 confiscated 75 dunums from the village.
According to Oslo lands classifications, the village lands are as follows:
8533 dunums are area classified "B"
6742 dunums are area classified "C"
[1] GIS-LRC