The Israeli Occupation demolishes Ar-Rajabi family home for the second time / South Hebron City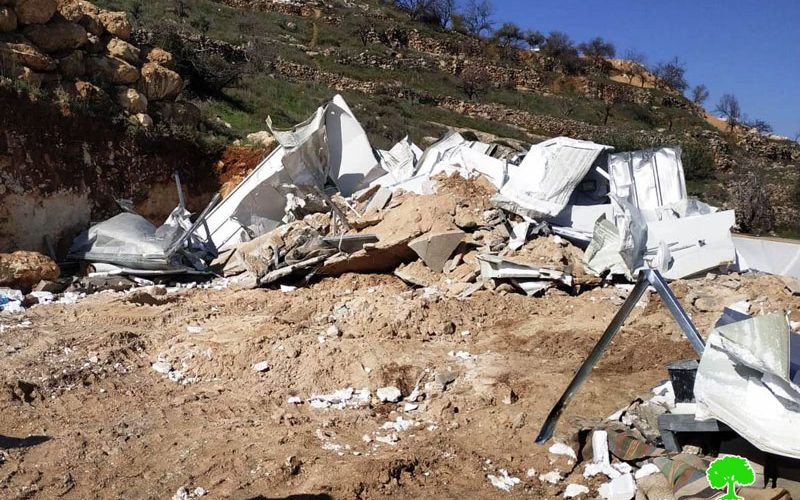 Violation: Demolishing a family's home.
 Date: February 13th 2020.
Location: Khallet Eideh – Hebron city.
Perpetrators: The Israeli Occupation Civil Administration.
Victims: Citizen Belal Ar-Rajabi.
Description:
Thursday February 13th 2020, The Israeli Occupation authorities demolished a house that belongs to Belal Ar-Rajabi in Khallet Al-Eideh – Ash-Sharabaty area close to Johar Mount, on the pretext of building without licenses.
In the early morning hours, an army force accompanied by the building and organization officer in the civil administration and a JCB bulldozer raided the area , forced its residents to leave, then took out some of the furniture that was inside the house, and carried out the demolition.
Reportedly, the targeted house is built of bricks walls and a steal sheets ceiling , with a total area of (40 m2) and composes of two rooms ,  a bathroom and a kitchen, it is a home for a family of 7 , 3 of them are children.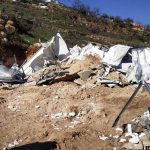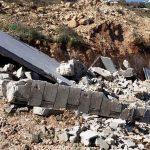 Photos 1+2: The remains after the demolition
The owner did not receive any preceding military orders from the occupation, before carrying out the demolition.
Noteworthy, the occupation authorities demolished a house that belongs to Ar-Rajabi in September 2nd 2019, while it was under construction(45 m2), leaving his family homeless. The owner built another house to make a home for his family , but the occupation demolished it one more time.
After the demolition, the family is now living with the Belal's parents.