Ravaging agricultural lands in Iskaka village / Nablus governorate
Violation: Ravaging 4 agricultural dunums.
Location: Iskaka village / East Salfit.
Date: February 17th 2020.
Perpetrator: Settlers of outpost "Nave Nahmiya".
Victims: number of farmers from the village.
Description:
In the dawn of Monday February 17th 2020 , a group of settlers took advantage of the calmness of the night in Iskaka village east Salfit , and used a "Komatsu" bulldozer to ravage and sabotage 4 dunums of agricultural lands to the west of the bypass road that leads to "Nave Nahmiya" settlement , in natural block 15 in a location also known of "Al-Qiniya".
The targeted plot is 400 m away from citizens' homes in Iskaka and Yasouf villages, that were used in the past in several field crops. However, since February 2020 until this day, the occupation has been prohibiting farmers from cultivating their land.
Reportedly, the ravaging aims to set up a fence around the outpost, but farmers were attentive and did not give up on their lands, which hindered settlers' scheme to lay their hands over the area.
Civil affairs commission head Osama Misleh told LRC:
"Protected by the Israeli occupation forces, settlers ravaged vast areas of lands, in order to annex more of Iskaka lands . Salfit suffers from the occupation's annexation and confiscation policies, and this is only a part of the aggressive campaign that the occupation lunched against Salfit. The occupation built up 24 Israeli illegal settlements on Salfit ground, in compared to only 18 Palestinian communities in the governorate."
Misleh asserted: "the land owners called the Palestinian Liaison Office , who in turn contacted the Israeli Liaison office , they came and took out the machineries , but people of the village are still living in fear and tension that settlers might come back any time."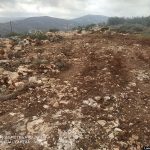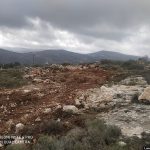 Photos 1-2: ravaging works
The targeted plots belong to : Heirs of Abdul Qadir Harb, Heirs of Abdul Raheem Harb, Nazmi Harn, Mihsin Harb.
About Iskaka:[1]
Iskaka  is located 6 km to the northeast of Salfit city and is edged by Jamma'in village from the north,  Salfit city from the west, Ariel colony  from the west and Shevut Rahel colony from the east.
Its population mounts up to 1198 people (2017 census). Iskaka's total land area is 5474 dunums, of 217 dunums are considered the village's built-up area.
Israeli colonies confiscated 257 dunums from Iskaka lands. Ariel colony that was established in 1978 confiscated 198 dunums from the village.
Bypass roads confiscated around 40 dunums from the village.
The lands of Iskaka are classified according to Oslo Accords as the following:
1491 dunums (27%) are classified as area B
3983 dunums (73%) are classified as area C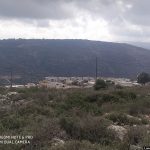 Photo 3: "Navi Nahmiya" settlement
[1] GIS-LRC
Prepared by