Military orders target agricultural lands in Beit Ummar / Hebron governorate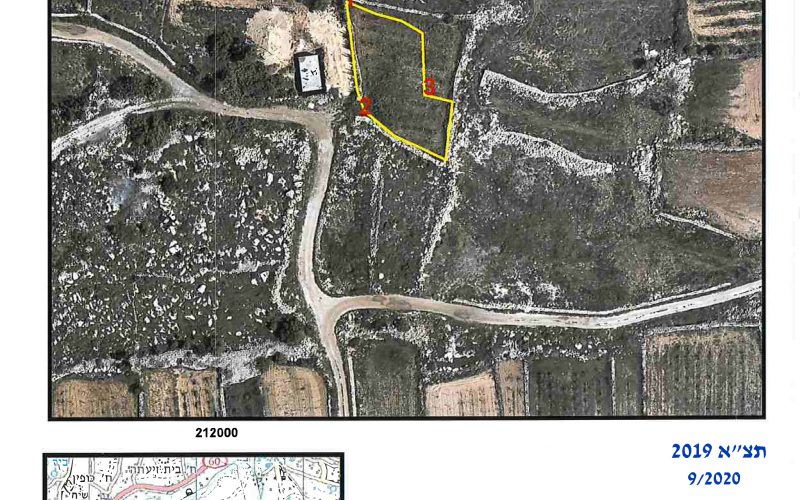 Violation : serving military orders on lands in Beit Ummar.
Date: February 5th 2020.
Location: Wurdan – Beit Ummar town / Hebron governorate.
Perpetrator: The Israeli Occupation Civil Administration.
Victims: Citizen 'Adel 'Eid.
Description:
Wednesday February 5th 2020, The Israeli Occupation authorities issued a halt of work notice on a water harvesting cistern, and an eviction order on plots in Beit Ummar , the targeted properties belong to Citizen 'Adel Humaid.
Affected citizen (65) said that he found the eviction notices in his plot , which means that the occupation forces came by and delivered them.
First : Halt of work notice:
The owner found a halt of work notice on the targeted cistern , it was issued by the building and organization department in the civil administration , and numbered (0449) , and orders the immediate stoppage of construction works, and set February 26th 2020 as the date of the subcommittee session in Beit El military court to decide the fate of the structure.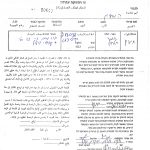 Photo 1: notice number 0449
The notice targeted a water harvesting cistern built since 2017 , with a storage capacity of (180 m3), and provides water for 10 dunums of agricultural lands.
Second: Eviction Notices
The owner found two eviction orders on plots he was working in rehabilitating in Wardan area.
The Eviction order number (001308) targeted a plot with a total area of (750 m2) , while military order number (001306) targeted a plot with a total area of (2.6 dunums).
Photos 2+3: Eviction notice (001306) and its attachments
Photos 4+5: Eviction notice (001308) and its attachments
The Occupation authorities claim that the targeted lands are "State properties" , and ordered the owner of evicting the land and return it to its previous status within 45 days.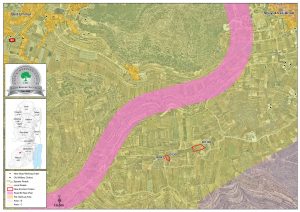 Owner Eid said that he inherited the targeted plots from his father , which is proved by an ownership deed , Eid rehabilitated and his farmlands in 2015 , and planted them with grapes and almond.
The owner applied for a license to construct a cistern , but the occupation authorities refused , as they never approve licenses for Palestinians in C area in order to keep the land as a colonial reserve.
Eid is planning to object on the eviction orders ; eviction means to uproot trees , demolish retaining walls and raze cisterns.
About Beit Ummar:[1] 
It is located 12 km to Hebron city. The village's total area is 21,285 dunums, of which 1,375 dunums are considered the built-up area; around 16,977 people inhabit Beit Ummar (according to 2017 census).
The Israeli occupation authorities confiscated 560.5 dunums from Beit Ummar for the favor of the bypass road no.60.  The occupation also confiscated 1,216 dunums for the favor of the following colonies:
Colony

Year of establishment

Dunums confiscated from Beit Ummar

Built-up area\dunums

No. of colonists

Karmei Zur

1984

179

289

623

Migdal Oz

1977

682

1,076.4

298

Kfar Etzion

1976

18.6

923.5

404

Efrat

1979

98.6

2,063.6

7,037

Alon Shevut

1971

237.8

934

3,146

Total

1216

5,286.5

11,508
Land Research Center sees that grabbing and confiscating Palestinian lands is a flagrant violation of all international conventions and agreements that are related to natural resources:
Article 1 of the International convent on Civil and Political rights: part 2. All peoples may, for their own ends, freely dispose of their natural wealth and resources without prejudice to any obligations arising out of international economic co-operation, based upon the principle of mutual benefit, and international law. In no case may a people be deprived of its own means of subsistence.
Article 17, of the Universal Declaration of Human Rights.
(1) Everyone has the right to own property alone as well as in association with others.
(2) No one shall be arbitrarily deprived of his property.
[1] GIS-LRC