Halt of Work Notices for Agricultural facilities in 'Azzun 'Atma / Qalqilya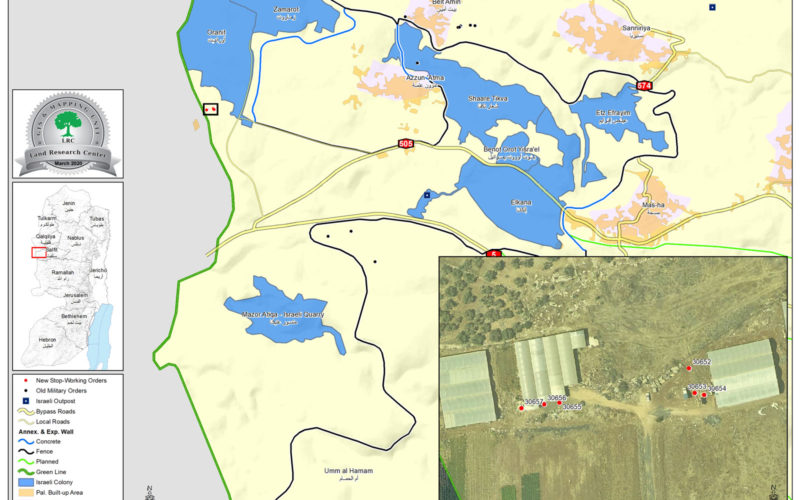 Violation: Halt of work notice for agricultural facilities.
Location: 'Azzun 'Atma village / Qalqilya governorate.
Date: February 18th 2020.
Perpetrator: The Israeli Occupation Civil Administration.
Victims: family of farmer Farouq Qezmar.
Description:
Tuesday, February 18th 2020, The Israeli Occupation Forces accompanied by the Building and Organization Officer in the Civil Administration raided agricultural lands in Kafr Qassim area in 'Azzun 'Atma , and notified 5 containers and a wood pergola , on the pretext of building without licenses.
The targeted facilities belong to Farouq Qezmar (46) from 'Izbet Salman , and the containers are used as a store for agricultural tools and materials and a sleeping place for workers, Noting that  Farouq Qezmar owns (48) dunums in the area.
Photos 1-7: Agricultural facilities targeted with halt of work notices
According to the notices, the Occupation set February 26th 2020, as the date of the subcommittee session in Beit El military court to decide the fate of the structures.
The Following table shows more information about the targeted facilities:
| | | |
| --- | --- | --- |
| # | The targeted facility | Notice no |
| 1 | Caravan 24 m2 | |
| 2 | Caravan 18 m2 | |
| 3 | Caravan 18 m2 | |
| 4 | Caravan 18 m2 topped by a pergola | |
| 5 | Wood and Nylon pergola 24 m2 | |
| 6 | Wood room 12 m2 | |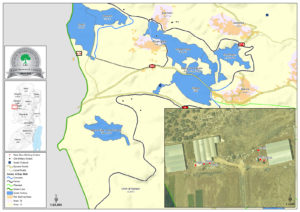 Owner Farouq Qezmar told LRC:
"My brothers and I own 48 dunums of Agricultural lands that were blocked behind the apartheid wall, the targeted area is in natural block 17 known as Kafr Qassim block. The area is mainly olive groves and vegetables fields  , and we have 12 workers from Izbet Salman  who help us at the fields , they only get in with permits , last February we brought number of containers to use them for storing feeds and agricultural tools , but the Occupation notified the containers , I prepared a legal file and filed a plea through the Jerusalem Legal aid and Human Rights Center. However , the case is still on hold."
About Azzun Atma: [1]
Located 8km to Qalqiliya city with a total area of 9,472 dunums, of which 1,054 dunums are the village's built-up area, Azzun is inhabited by 7,821 people (2007).
The occupation confiscated vast area from the village for the favor of colonization and the apartheid wall; the areas are detailed as follows:
276 dunums were confiscated for Maale Shamron colony that was established in 1980.
417 dunums were confiscated for the bypass road number 55
It should be marked that the vast majority of Azzun lands (6,927 dunums) is classified as area "C" according to Oslo accords; areas that are controlled by the Israeli occupation. The village has zero percentage of area "A" that is under the control of Palestinian Authority. As for other classifications, the village has 2,546 dunums classified as area "B". (Geographical Information System- Land Research Center)
3 colonies are built on 'Azzun lands and they are:
Maale Shomron: Built in 1980, the colony has a total area of 1903 and a built-up area of 216 dunums. 549 colonists live in it (according to a 2004 census). 
Genot Shomron: Built in 1985, the colony's built-up area is 484 dunums.
Karni Shomron: Built in 1978, the colony's built-up area is 1351 dunums. 6270 colonists live in it (according to a 2005 census).
[1] GIS-LRC