Final Notice Targets Retaining Walls in Ni'lin \ Ramallah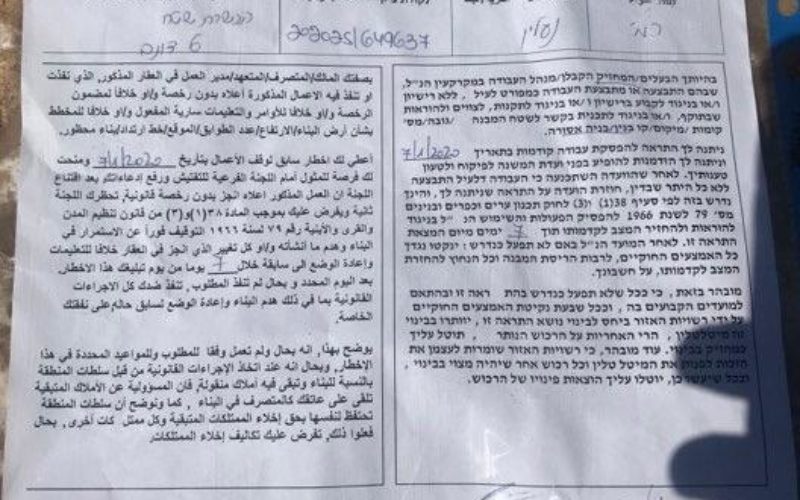 Violation :Demolishing retaining walls.
Location: Ni'lin \ Ramallah governorate.
Date: January 7th 2020 – February 26th 2020.
Perpetrator: The So Called Israeli Civil Admimnistration.
Victims: Citizens Sabti Khawaja and Ahmed 'Umaira.
Description:
The Israeli Occupation Civil Administration through the building and Organization Inspector raided the Western area of Ni'lin In January 7th , and targeted an agricultural project in the area through halt of work notices on the pretext of building without a license, noting that the targeted lands are only 100 m away from the Annexation and Expansion Wall. According to the notices the occupation set January 21st as the date of the subcommittee session in Beit El military court to decide the fate of the notified structures.
The following table Shows more information about the targeted structures:
owner

Family members

Military order number

The targeted facilities

notes

Sabti Al-Khawaja

5

-Retaining walls 300 m around a 3dunums plot

-An agricultural room 12 m2

 

Ahmed 'Umaira

4

-Baton Wall around a 6 dunums plot – 450 m

 
Final Demolition Order:
Noteworthy, the targeted farmers through a human rights institution applied for licenses for the targeted facilities. However in February 26th 2020  the occupation issued a final demolition notices for retaining walls that belong to Ahmed 'Umaira, under which the occupation gave the owner only 7 days to carry out the demolition.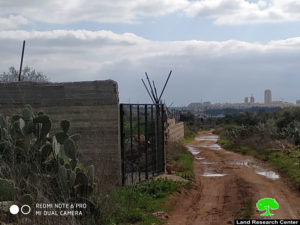 Photo 2: Final Demolition Order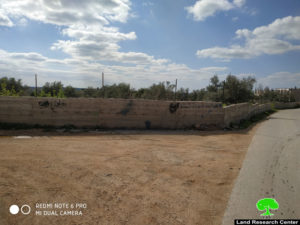 Photo 3: The targeted facilities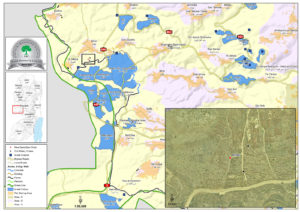 About Ni'lin:
20 km to the northwest of Ramallah, Ni'lin is edged by the towns of Qibya and Budrus from the north, Al-Midyah town from the southwest, Deir Qidees town from the east and Mod'in and Kiryat Sefer colonies from the south.
Ni'lin is inhabited by 5897 people on a total land area of 15,206 dunums , of which 748 dunums are the village's built-up area.
The occupation confiscated a total of 3020 dunums for colonial ends, which are detailed as follows:
Hashmona'im colony: it was established in 1985 on confiscated area of 858 dunums from the village. It is now inhabited by 2097 colonists.
Kiryat Sefer: it was established in 1991 on confiscated area of 476 dunums from the village. It is now inhabited by 24,290 colonists.
Mattityahu colony: it was established in 1980 on confiscated area of 657 dunums from the village. It is now inhabited by 1365 colonists.
Colonial bypass road number 446confiscated 408 dunums 
The apartheid wallconfiscated 621 dunums for the favor of its construction and isolated 14,083 behind it.
According to Oslo Accords lands classifications, Ni'lin lands are classified as follows:
1,123 dunums are classified as area "B"
14,083 dunums are classified as area "C"