Colonists Impose Control Over Vast Areas of Land in the Jordan Valley / Tubas governorate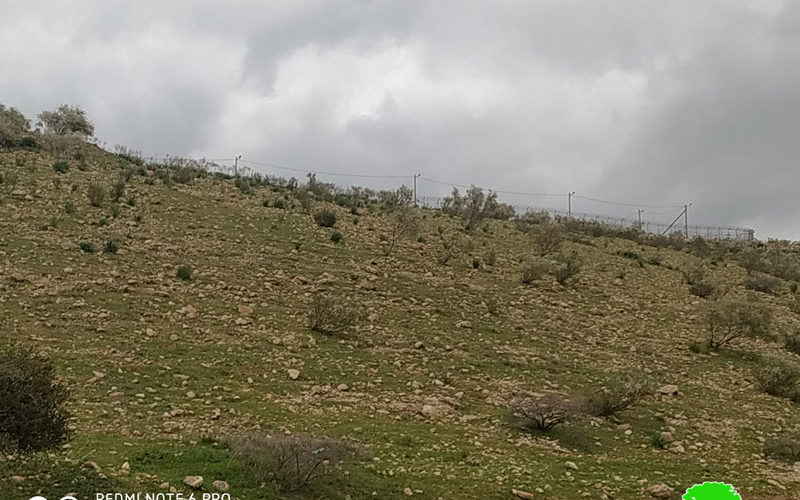 Violation: Setting up a siege on vast areas of agricultural lands.
Date: February 25th 2020.
Perpetrators: Colonists of Mekhola and Maskiot.
Location: Ein Hilweh , Al-Faw , Umm Al-Jamal – Wad Al-Malih.
Victims: Bedouin and Rural communities.
Description:
The Israeli Occupation Judaization schemes in the Jordan Valley are escalating rapidly, colonists are imposing realities on the ground, and changing the historical identity of the area , Tuesday morning , February 25th 2020 , a group of colonists belong to "Sons of the hills" gang, in coordination with the civil administration, set up a siege with a total area of 7000 dunums of Wad Al-Malih lands , to the east of "Al-Faw" , "Umm Aj-Jemal" , "Ein Al-Hilweh" areas in order to close the area on the faces of herders and farmers.
Reportedly , the siege is 1 m -1.5 m high , it is not yet clear the area of land that will be included in the siege . Noteworthy, The targeted lands belong to farmers from Abu Mutawe'a , Daraghma, Einbusi , Dababat clans , which is proved by Tapu papers , and the rest are classified as absentee's lands , or governmental properties.
Photos 1-4: Targeted lands in the Jordan Valley
Human Right Activist in the Jordan Valley 'Aref Daraghma told LRC the following:
"The targeted plot has a strategic significance for the Jordan Valley, for many years it has been used as postures for Bedouins of Al-Maleh Bedouin and rural communities , under closures of vast areas of lands and military orders that targeted everything in the area , and turned residents' lives into an unbearable hell, noting that the area targeted by colonists is location of Khirbets emptied following the 1967 war.
The Responsible On colonization File Mu'taz Bsharat told LRC:
"In reality, confiscating this territory will facilitate annexing the colonies of Rotem , Meskeyot , Mekhola and Mozawkah military camp to each other , which means that thousands of dunums will be confiscated to create a massive Settlement cluster."
Colonists are reportedly implementing the Israeli governmental decision to Annex the Jordan Valley area.
Wad Al-Malih is known as the western gate of the Jordan Valley , and has a strategic location. Thus, the occupation is working day and night to take over the area. Establishing "Nahal" military camp in the 70s at the area turned residents' lives into a living hell , due to the damages they caused to the environment, in an area whose residents depend mainly on agriculture for living. In addition to banning construction, and destroying any new buildings on the pretext that they lack "licenses