The Israeli occupation lay their hands on 166 dunums south east Qalqilya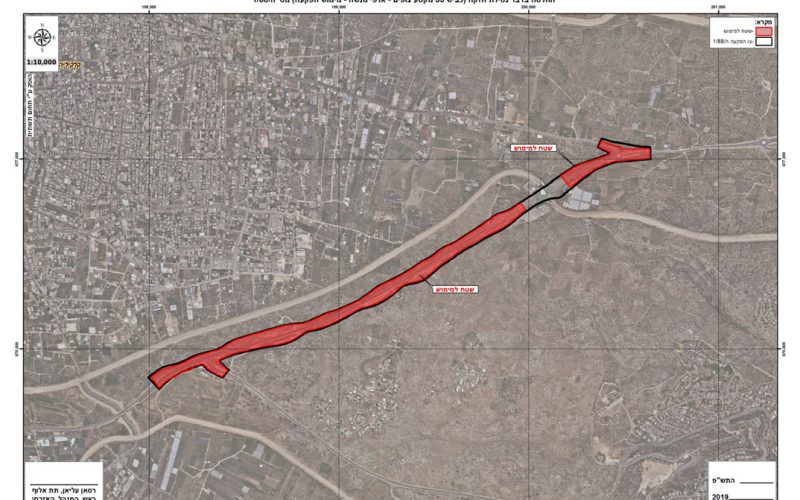 Violation: confiscation of vast areas of lands.
Location: Qalqilya city , Hebla town , 'Azzun town.
Date: January 2020.
Perpetrator: The Israeli occupation civil administration.
Victims: Number of farmers from the village.
Description:
October 29 , 2019 , the Israeli occupation civil administration passed a resolution to confiscate 166 dunums from lands south east Qalqilya , the confiscation is with the objective of expanding bypass "55" which serves "Alfe Menashe" and "Tzufim" settlements that were built on confiscated lands in the area.
Noteworthy , in early January 2020 , the Israeli occupation informed the Palestinian Liaison office if their decision.
According to military order entitled "An order related to Land Laws (confiscation for public interest) , (Judia and Samaria) (numbered 321) , 1969-5729" , which confiscates lands for the purpose of expanding a segment of bypass 55 , the occupation set the targeted locations in the project:
Natural block 7627 pieces : 31,41,42, "0" road between pieces.
Natural block 7628 pieces: 1-6,24.
Natural block 7567 pieces: 10,12,13,18,35.
Qalqilya city :
Natural block 7568 pieces: 35,48,50,57,53,65,66, "0" road between pieces.
'Azzun town:
Natural block 34 (plea) pieces: 2-4,9, "0" road between pieces.
Natural block 26(plea) pieces: 54,55,57-59,65-67, "0" road between pieces.
Natural block 25 (plea) Pieces : 48-51.
According to Qalqilya governorate estimations, the targeted lands belong to 47 families most of them are from Hableh , An-Nabi Elyas, Ras 'Atiyah , Azzun towns and Qalqilya.
The responsible on colonization file in Qalqilya Mahmoud Ash-Shaikh, told LRC :
"This scheme is only a part of a bigger scheme that aim to perpetuating Zionist occupation, 2 years ago the occupation expanded bypass 55 from the north on confiscated lands from An-Nabi Elyas, while now the occupation is expanding the width of the bypass road that connects "Alfe Menashe" to "Tzufim" , which reflects the occupation's intention to change the area's features in order to expand their settlements."
Noteworthy, "Alfe Menashe" and "Tzufim" receive great support from the Israeli occupation government  , during the recent years both settlements receive great fund for infrastructure and physical expansion , which contributed in increasing populations in the settlement.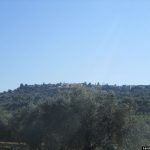 Photo 1: a segment of bypass 55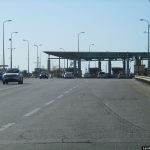 Photo 2: Alfe Menashe settlement
Legal Feedback:
The International Covenant on Civil and Political Rights:
All peoples may, for their own ends, freely dispose of their natural wealth and resources without prejudice to any obligations arising out of international economic co-operation, based upon the principle of mutual benefit, and international law. In no case may a people be deprived of its own means of subsistence.
Article 17 of Universal declaration of human rights 10 –Dec- 1948:  
(1) Everyone has the right to own property alone as well as in association with others.
(2) No one shall be arbitrarily deprived of his property.
Prepared by