The Israeli occupation forces demolish a water harvest cistern in Az-Zawiya / Salfit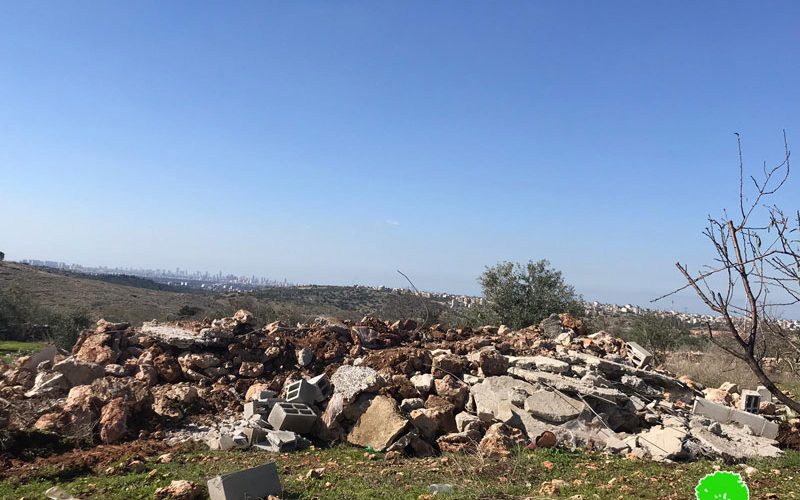 Violation : demolishing a water harvest cistern.
Location: Az-Zawiya / west Salfit.
Date: January 26th 2020.
Perpetrator: The Israeli occupation forces.
Victims: two families from the town.
Description:
Sunday, January 26th , The Israeli occupation forces accompanied by a bulldozer raided "Khallet Sarseria" area which is located near the apartheid wall west Az-Zawiya in Salfit governorate, the Israeli occupation destroyed a water harvest cistern with a storage capacity of 60 m3 implemented in 2018, with the funding of the Arab Development Fund, and implementation of the Agricultural development association .
The cistern belong to citizen Mu'ath Misleh (41 years) from Az-Zawiya , Misleh said that he received military order numbered (203792) in March 27th 2019, the targeted cistern was supposed to irrigate 9 dunums planted with olives, figs and almonds, the plot was also rehabilitated by PARC.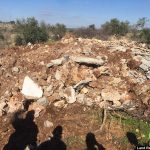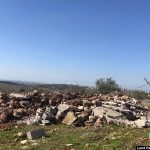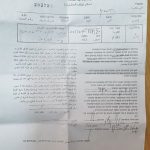 Photos 1-3: The targeted cistern
In the same context, the Israeli occupation notified citizen 'Anan Al-Ashqar was notified of halting work on an agricultural cistern with a storage capacity of 60 m3 , the notified cistern is only 70 m away from the demolished cistern in Sarseria, and according to notice numbered (30651) the occupation set February 11th as a final date for objecting on the notice, through preparing the file and filing it to the Israeli building and organization department in "Beit El" military court.
The targeted cistern was newly constructed by the Palestinian Agricultural Development Association with the supervision of the ministry of agriculture , within "Rehabilitating Lands Close to the Apartheid Wall" project activities, 10 dunums were rehabilitated for Al-Ashqar within this project.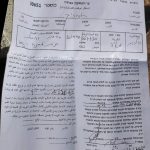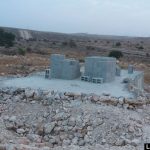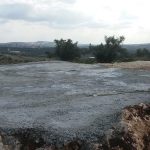 Photos 4-6: The threatened cistern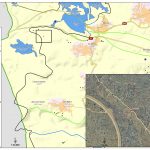 Mr.Mohammad Moqady , Az-Zawiya village council head told LRC :
"During the last two years , several projects were implemented in the area that supports farmers steadfastness in areas close to the apartheid wall, among them was constructing 35 rain water harvesting cisterns, each of them has a storage capacity of 30 – 60 m3 of water .However, the occupation forces notified 5 other cisterns.
Al-Moqadi asserted:
The occupation is threatening to take over 2400 dunums close to the apartheid wall , and issued a resolution to set 800 dunums to build a cemetery for settlers of "Etz Efraim" and "Elqana".
Recently, several agricultural projects were implemented in the area , 210 dunums were reclaimed and 60 dunums were rehabilitated , in addition to opening 3 km of roads were building retaining walls in several areas, which angered the occupation ,who started issuing military orders and notices targeting number of plots."
About Az Zawiya:[1]
Located 17 kilometer west of Salfit and adjacent to the Green Line, Az Zawiya has a population of 5230 people according to statistics conducted in 2017. 81% of the population depend on agriculture and sheep grazing while the rest work in governmental jobs or private sector projects. Az Zawiya has a total area of 12,000 dunums, 693 of which are a built-up area of the town. Most agricultural lands in Az Zawiya are planted with olive, figs, and cactus.The Israeli occupation confiscated 1747 dunums of Az Zawiya lands for colonies and the Apartheid Wall as the following:
Two colonies are built on Az Zawiya lands. The first is Mazor Atiqa which was built in 1986 and confiscated 573 dunums. The other is Elkana which was built in 1977 and confiscated 57 dunums. Elkana is inhabited by 3050 colonists.
Bypass road number 5 and it devoured 520 dunums of Az Zawiya lands
The Apartheid Wall which destroyed 579 and isolated 4228 dunums
[1] GIS-LRC
Prepared by