Settlers of "Bruchin" sabotage 15 aging olive trees in Kafr Ad-Dik / Salfit governorate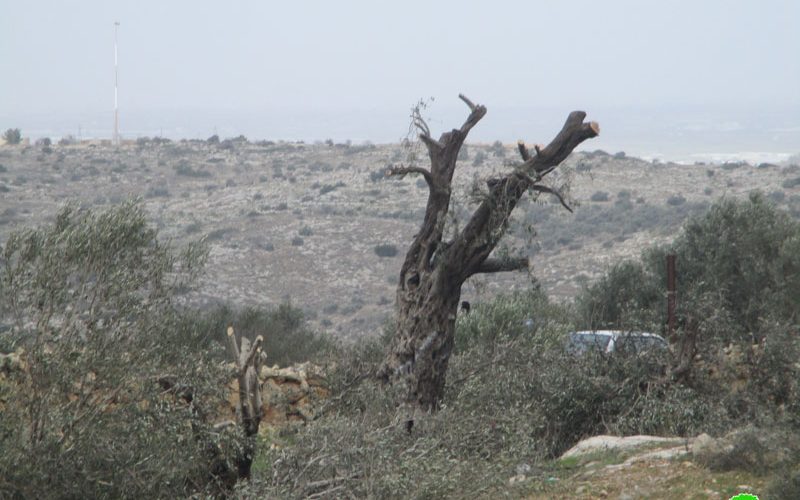 Violation: sabotaging aging olive trees.
Location: Kafr Ad-Dik / West Salfit city.
Date: January  23rd 2020.
Perpetrators : Settlers of "Bruchin".
Victims: Farmer Yassir Ahmad.
Description:
In the early morning hours of Thursday , January 23rd 2020, farmer Yassir Ahmad (54) went to his plot in "Khanet Al-Kohol" , "Hariqat Rajeh" north east Kafr Ad-Dik and close to "Bruchin" settlement , settlers used sharp tools to sabotage 15 olive trees, aging 160 years old.
Affected citizen told LRC reporter:
"During the recent years, we were targeted by several harassments in order to stop us from practicing agricultural activities and stay away from our lands , we informed the Palestinian Liaison office , but nothing was done, until we came to the plot and shocked by the terrible view of the destroyed trees, these trees are as dear our children, because we watched them growing".
This attack occurred several times in the same area, but what is going on in the ground supports settlers in carrying out attacks against Palestinians and their properties.
Human rights activist in Salfit governorate Mr. Abdul Karim As-Sa'adi told LRC:
"What is going on is an implementation of Israeli policies that aim to take over lands north west Salfit governorate, through confiscation of lands, destroying remains, and imposing restrictions that prohibit cultivation of lands , and encourage settlers to harass Palestinian farmers who spent years in cultivating their lands."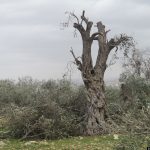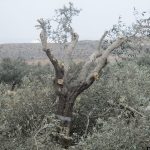 Kafr ad Dik:
Kafr ad Dik is located 15 km to the west of Salfit. It is surrounded by Bidya (north), Rafat and Deir Ballut (west), Bruqin and Sarta (east), and Bani Zaid villages (south).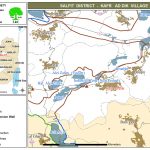 Kafr ad Dik has a population of 5551 people, according to a 2017 census.
Its total area is 15529 dunums; however, it has been suffocated by bypasses and 3 Israeli colonies that lay over its lands.
This has further limited its expansion knowing that it had already had a 791-dunum organizational plan (built-up area); it also isolated the village from its surroundings.
The Israeli occupation confiscated 2477 dunums of Kafr ad Dik lands for the benefit of:
Colonies devoured 1225 dunums, and they are:
Name of colony

Year of construction

Area of confiscated land/ dunum

Number of colonists

Har Eli Zahav

1983.

134.

339.

Eli Zahav- Yoezer

1982.

290.

424.

Bedoel

1984.

800.

1088.

·

1999.

1.

339.

·

1225.

1512.
*Source: Field Research- Monitoring Israeli Violations Team- Land Research Centre (LRC).
Bypasses stole 362 dunums
The Apartheid Wall seized 890 dunums and isolated 8824 dunums and is expected to be 8905 long in Kafr ad Dik lands.
Lands of Kfar ad-Dik are categorized according to Oslo Accords into lands under Area B (15% of the lands) and lands under Area C (85% of the lands).
Prepared by