On the pretext of protecting antiquities, the occupation uproots olive trees – Ibziq hamlet / Tubas governorate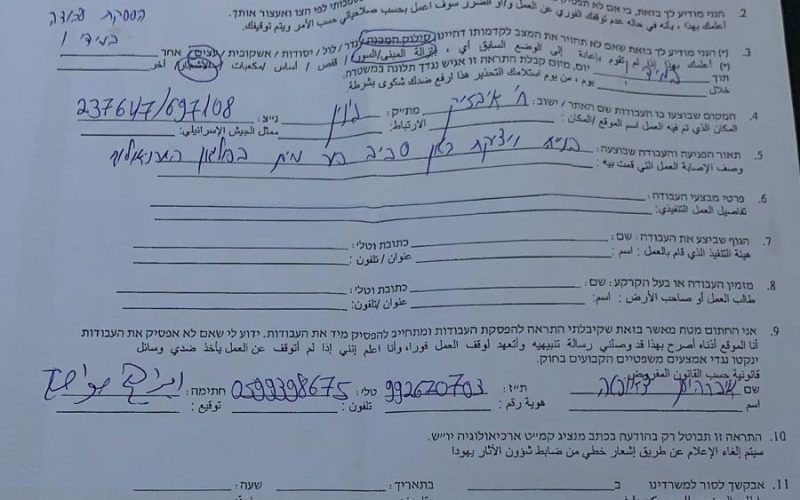 Violation:  uprooting olive trees.
Location: Khirbet Ibziq / North Tubas.
Date: January 01 -2020.
Perpetrator: The antiquities department in the Israeli occupation civil administration.
Victims: Farmer Ibrahim Majali.
Description:
In the early morning hours of Wednesday, January 2019 , the Israeli occupation forces accompanied by an officer from the antiquities protection department raided Ibziq hamlet north Tubas , the Israeli occupation forces gave farmer Ibrahim Majali (61) a military order numbered (239) which orders the eviction of a plot with an area of 10 dunums planted with olive trees aging 20 years , the plot consists of 175 olive trees in addition to a metal siege that surrounds part of the targeted plot (the targeted siege has an area of (240 m* 1 m)),  on the pretext of assaulting a site of antiquity.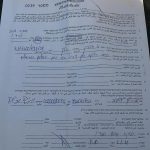 The targeted plot is only 200 m south At-Tahadi school in Ibziq hamlet , which was targeted several times in 2019 , on the pretext of protecting activities as the occupation claims.
Noteworthy, the owner has Tapu papers that proves that he owns the plot, affected citizen told LRC :
"My family and I own more than 80 dunums in Ibziq area , that we have been planting them for so long , early this year the occupation notified the plot with eviction on the pretext of protecting antiquities site , noteworthy, the area does not contain any significant antiquities. We will never give up on our land, we grew with its trees and we will stay steadfast here."
During the recent years the occupation destroyed areas of agricultural lands , and closed vast areas under several  claims such as military training areas  and antiquities and historical sites.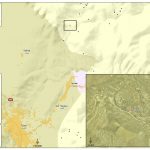 Khirbet Ibziq is 8 km east of Tubas and is  a targeted Bedouin gathering, just like the Khirbets of Samra, Ainon and Hamsa. Its inhabitants depend on sheep grazing and agriculture as sources of living and on wood and sackcloth for building their dwellings. They lack basic daily services like water and electricity. They can get water by carrying jars of water from Tubas to Ibziq; a journey of 8 km.
38 Bedouin families live in Ibziq; that is 256 people. 16 out of the 38 families live permanently in the area while others are nomads- according to the head of Ibziq community. Ibziq was named after Bazqin, a religious figure buried in the place.
The area of Ibziq is 8,000 dunums- 5,000 of which are considered Jordanian crown land Bedouins are not allowed to take advantage of because of Israeli continuous attacks, the latest of which were the eviction orders. The lands are considered closed military zone and lands for military practice
Prepared by