Halt of Work notices for Bedouin communities in Fasayel Al-Wousta village / Jericho governorate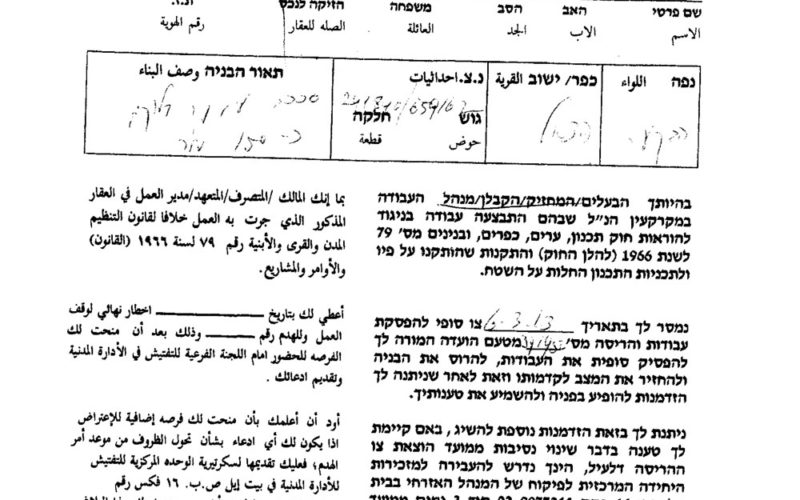 Violation: Halt of Work notice for residential and agricultural facilities.
Location: Fasayel Al-Wousta village / Jericho governorate.
Date: January 26th and 27th 2020.
Perpetrators: The Israeli Occupation Civil Administration.
Victims: 7 families from the community.
Description:
Early this year the Israeli occupation authorities intensified military orders and notices in Fasayel Al-Wousta area north Jericho. 
Halt of Work notices:
The So Called Protecting antiquities officer raided the Bedouin community in Fasayel Al Wousta and gave citizen Mahmoud Ka'abneh (38) a military notice numbered (0238), and entitled "an order to Stop Destroying Antiquities", targeting an under construction house with a total area of 136 m2, under claims of building on an antiquities site.
Affected citizen told LRC the following:
"Two months ago I built a house for my family (5 family members, among them 3 children), the occupation authorities give me an eviction notice within 14 days. Noteworthy, the plot doesn't have any signs of antiquities, but the occupation authorities have always their excuses to confiscate Palestinian lands for their colonial projects."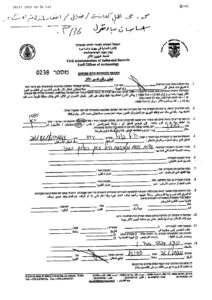 Notice number 0238 targets a house belong to Mahmoud Al-Ka'abneh
In Monday, January 27th 2020, the inspection officer in the civil administration notified several residential and agricultural facilities in Fasayel Al-Wousta , and gave them only 3 days to object.
The following table shows more information the targeted facilities and its owners:
Affected citizen

Family members

Cattle heads

Military notice number

Date of the previous halt of work notice

About the targeted facilities

Suliman Sawarka

13

120

March 6th 2013

 

Ahmed Ibeyat

8

–

March 6th 2013

House 110 m2

'Aziz Ibeyat

6

–

N/A

N/A

House built of bricks and a zinc ceiling 45 m2

Mohammed Ar-Rashayda

7

110

 

 

July 9th 2010

A pergola with a zinc ceiling 60 m2 +

A pergola with a zinc ceiling 16 m2

Said Ar-Rashayda

8

45

total

42

275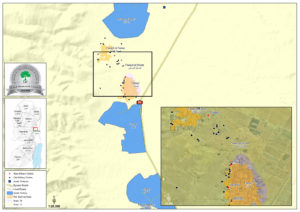 Sunday ,February 2nd 2020 , the occupation authorities raided the area and gave a halt of Work notice to citizen Jasir Ka'abneh (44) on the pretext of using antiquities , Notice number 0242 gave the owner only 14 days to evict the area.
The targeted barracks has a total area of 90 m2, set next to a barn with a total area of 60 m2; it contains 150 sheep, while the owner supports a family of 6 and depends on Cattle breeding for living.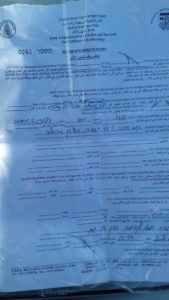 Notice number 0242 which targets two barracks
Fasayil is 23 km north of Jericho and its built-up area is 147 dunums only ( Fasayil village council). This area does not meet the natural increase of population. More than 30 residences and barracks were demolished as a result. It has a population of 1132 (according to Palestinian Central Bureau of Statistics in 2010). It is surrounded by a number of illegal Israeli colonies that limit the expansion of the village and deprive its inhabitants from having a normal life. 
From the north, Fasayil is surrounded by colonies of Yafit and Pezael (Fezael), Tomer and Gilgal and Netiv Hagedud from the south in addition to a bypass that links the northern colonies with the southern ones.