Destroying water lines in Aj-Jiftlik/ Ramallah governorate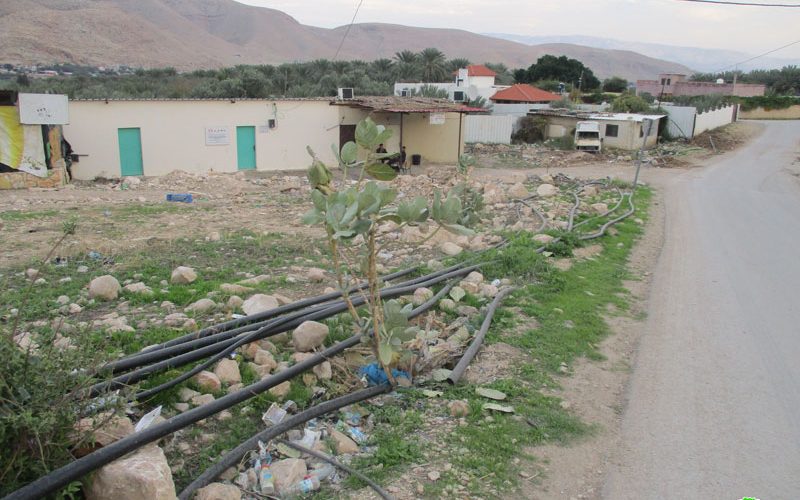 Violation: Demolishing and sabotaging water lines.
Location: Aj-Jiftlik village / north Jericho city.
Date: January 15th 2020.
Perpetrator: The Israeli Occupation Army.
Victims: Palestinian communities and agricultural lands in the area.
Description:
Wednesday afternoon, January 15th 2020, The Israeli occupation forces accompanied by an officer from the water department in the civil administration raided Aj-Jiftlik North Jericho , the occupation forces sabotaged and cut number of water lines that measure half an inch , and confiscated its components , the occupation claims that the lines violated their laws.
Reportedly, the targeted water lines are 1200 m long, the lines provide the areas of "Al-Masfeh" and "Khirbet 'Allan" with drinking and irrigation water, the targeted area is inhabited by tens of Palestinian families , and surrounded by agricultural lands.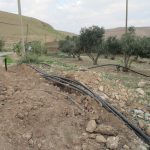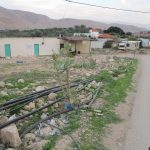 Photos 1-5: The targeted water lines
Farmer Ahmad Al-'Anouz from "Al-Masfeh" area told LRC:
"Recently, the occupation have been pushing us to leave the area , sabotaging water lines and stopping the flow made our lives even harder and affected the agricultural sector. The only solution we have now, is buying water in 100 shekels per 7 m3, which will only increase our suffering"
During the recent years, the occupation has been heavily targeting Aj-Jiftlik. Apparently, the occupation's policies of taking over water resources and draining artesian wells aim to push people of Aj-Jiftlik to leave their town.
 Aj-Jiftlik village council head Ahmad Ghawanim told LRC:
"Aj-Jiftlik village has an area of 32,000 dunums , it contains 35 artesian wells that need repairing ,the wells are distributed around the area, the Israeli occupation authorities took over all of them , the wells together used to produce 140 cubes / hour (approximately 4.8 million meter3) most of them were drained due to the  occupation's national water company excessive draw of water. As a result , Aj-Jiftlik was left with 12 artesian wells that produce water with high salt content (about 30 cubes / hour), but the water is not suitable for humans and most crops , these policies have had a  notable negative impact on agriculture."
Noteworthy, the occupation's policies in imposing control over Palestinian water aresources, pushed farmers to take random water line from the artesian wells that are controlled by the Israeli occupation in order to irrigate their crops.
 About al- Jiftlik:[1]
It is located 35km to the northern part of Jericho city and is edged by the village of Beit Dajan from the northwest and Massua colony from the west. The village has a population of 3100 people until 2017 and has a total land area of 185031 dunums of which 1110 dunums are built-up area. Noteworthy, the occupation expropriated around 12040 dunums from the village as follows:
3207 dunums were confiscated for the favor of establishing colonies in the nearby.
3328 dunums were confiscated for the bypass roads no. (90, 505, and 508).
5505 dunums were confiscated for the favor of military camps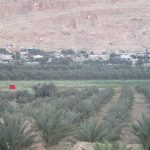 Photo 6: a view of Aj-Jiftlik
[1] GIS-LRC
Prepared by