Demolition order targets a house in Basaliyya area in the Jordan Valley / Tubas governorate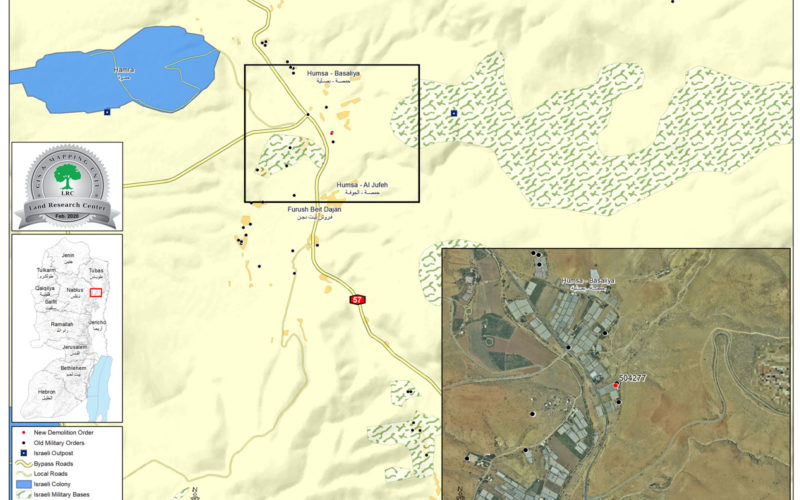 Violation: Halt of Work notice.
Location: Humsa At-Tihta – Basaliyya / Tubas.
Date: January 26th 2020.
Perpetrators: The building and organization department in the Civil Administration.
Victims: Marwan 'Amer's family.
Description:
Sunday , January 26th 2020 , the Israeli Occupation forces raided Humsa At-Tihta area in the northern  Jordan Valley , and targeted  a shack that belongs to Marwan 'Amer and inhabited by a family of 10 , the owner received a notice to extend the objection period.
According to Notice number (504277), the occupation gave the owner only 7 days to object on the notice that targets the 80 m2 house.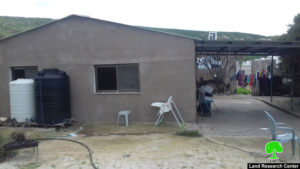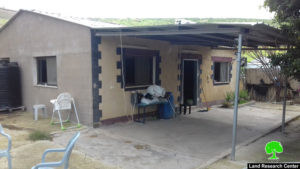 Affected citizen told Land Research Center:
"I have been living in the targeted house for the last five years, I am a farmer and I support a family of 10, 5 of them are children, In March 30th 2017, I received a halt of work notice for my simple residence, I assigned a lawyer to follow up the case , and they gave me an additional chance to object. Noteworthy, the occupation previously refused the licensing order, on the pretext of building on a governmental property; this puts a threat of displacement on the whole family."
Basaliyya is located 1 km to the east of Al-Humra military checkpoint, and it is known to be a hot spot for Israeli violations, the occupation refuses to provide licenses for any new structures, it also settles most of its lands as governmental properties, and the rest are classified as an archeological site. During the last few months,  the occupation forced many families to leave the area, while illegal settlers were protected to take over and cultivate the targeted lands.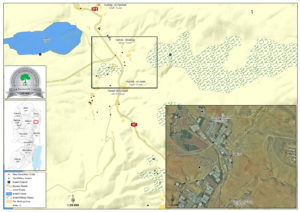 Legal Feedback:[1]
The constringing policy by the Israeli occupation against Palestinians and their properties is a violation of international conventions and agreements:
 Article 147 of Geneva fourth convention: extensive destruction and appropriation of property not justified by military necessity and carried out unlawfully and wantonly. ( it is considered a serious violation of the convention)
Article 53 of Geneva fourth convention that forbids destroying properties:  Any destruction by the Occupying Power of real or personal property belonging individually or collectively to private persons, or to the State, or to other public authorities, or to social or co-operative organizations, is prohibited, except where such destruction is rendered absolutely necessary by military operations.
Article 33 of Geneva fourth convention: No protected person may be punished for an offence he or she has not personally committed.
[1] GIS-LRC