Demolishing an agricultural facility in Ghuwain south As-Samou'/ Hebron governorate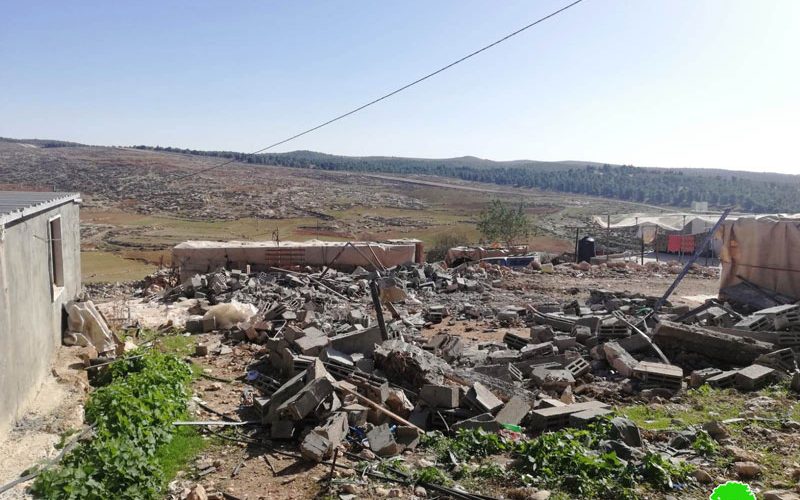 Violation: demolishing an agricultural facility.
Date: December 24th 2019.
Location: Ghuwain hamlet – As-Samou' town / Hebron governorate.
Perpetrator: The Israeli occupation civil administration.
Victims: Ibrahim Khader Al-Hawamdeh.
Description:
Tuesday morning, December 24th 2019, the Israeli occupation authorities demolished an agricultural facility that belongs to Ibrahim Al-Hawamda , on the pretext of building without licenses in Ghuwein As-Samou'.
Affected citizen said that the Israeli occupation forces accompanied by the building and organization department in the civil administration raided the village at 9:00 am, and after emptying the structure, a JCB machinery leveled it to the ground.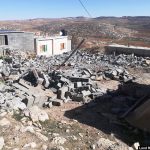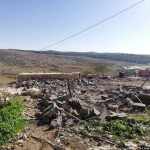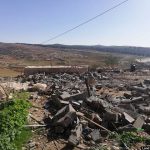 Photos 1-3: The remains of the demolition
The occupation demolished the building that is built of bricks walls and a steal sheets ceiling on a baton floor , the facility has a total area of (100 m2), it was built the facility in 2018.
At the beginning,  Al-Hawamdeh belt this structure to make a home for his family, that was followed by a removal within 96 hours notice from the occupation in June 2019 , the owner quickly prepared a legal file to object and gave it to a human rights organization, his file got to the Israeli supreme court , which also approved on the demolition and told the owner to demolish his own building, and in case the occupation authorities implemented the operation , the owner will have to pay all the costs.
The owner gave up and moved out, and transformed the place into an agricultural facility.
Noteworthy , this is the second building to be demolished in Ghuwain according to military order (1797) for 2018, which targets newly constructed buildings, giving the owner only (96 hours) before the demolition, while all objections are refused.
Prepared by