The Israeli occupation forces demolish structures in Masafer Yatta / Hebron governorate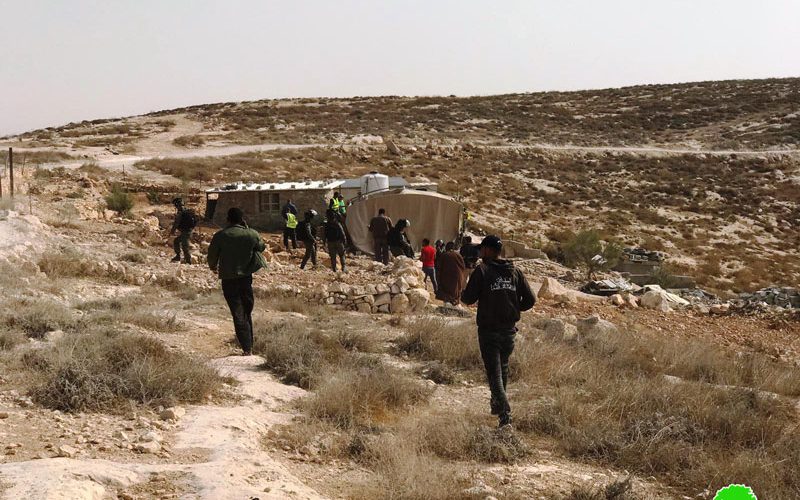 Violation: demolishing structures and confiscating their components.
Date: 06/11/2019.
Location: Khallet Ad-Dabe'a and Maghayyir Al-'Abeed – Masafer Yatta / Hebron governorate.
Perpetrator: The Israeli occupation civil administration.
Victims: Mohammad Dababsa and Shehadeh Makhamra.
Description:
Wednesday , November 6th 2019, the Israeli occupation forces accompanied by members from the building and organization department in the civil administration and a lifting truck raided the eastern area of Khallet Ad-Dabe'a village , and  surrounded number of tents , took out the properties that were inside them , then dismantled  the tents and confiscated them.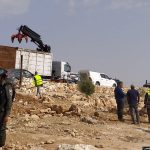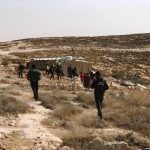 Photos 1+2: demolition and confiscation in Khallet Ad-Dabe'a village
The occupation forces targeted the following structures:
A tent belongs to Mohammad Dababsa : this tent is a shelter for a family of (12, 7 children) , it has an area of 16 m2 and was granted by an international human right organization , after the occupation demolished his house in (17/6/2019) for more information read the following LRC report:
IOF demolish a residence in Khallet Ad-Dabe'a-Masafer Yatta/ Hebron governorate
   Mohammad Dababsa now lives in a cave in the area. It is noteworthy, that Mohammad built a house for his family with the help of a human rights organization , but in November 3, 2019 , the occupation authorities issued a demolition order on the house within (96 hours).
A tent belongs to 'Amer Dababsa : This tent was provided by the Palestinian red crescent society after the occupation demolished his house in (11/9/2019).
Brothers Mohammad and 'Amer Dababsa said that they did not receive any previous military orders.
Demolishing a tent in Maghayir Al-Abeed:
In the same day, the occupation forces raided Maghayir Al-Abeed area and demolished a barn belongs to Shahadeh Makhamra , the barn consist of metal angles and barbed wires topped by plastic sheets , with an area of 80 m2, built 2 months ago , and used to shelter 60 cattle heads.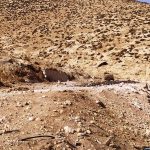 Photo 3: location of the targeted barn
Members from the Israeli occupation civil administration demolished the barn and confiscated its components , without serving any preceding military orders.
International Conventions and agreements pertaining to house and residences demolition:
Article 147 of Geneva fourth convention  : extensive destruction and appropriation of property, not justified by military necessity and carried out unlawfully and wantonly. ( it is considered a serious violation of the convention)
Article 53 of Geneva fourth convention that forbids destroying properties : Any destruction by the Occupying Power of real or personal property belonging individually or collectively to private persons, or to the State, or to other public authorities, or to social or co-operative organizations, is prohibited, except where such destruction is rendered absolutely necessary by military operations.
Article 33 of Geneva fourth convention: No protected person may be punished for an offence he or she has not personally committed.
Article 32 of Hague convention 1907 part g: To destroy or seize the enemy's property, unless such destruction or seizure be imperatively demanded by the necessities of war.
Article 17 of Universal declaration of human rights 10 –Dec- 1948:  No one shall be arbitrarily deprived of his property.
Prepared by