The Israeli Occupation demolishes a residential building in Shuqba / North Ramallah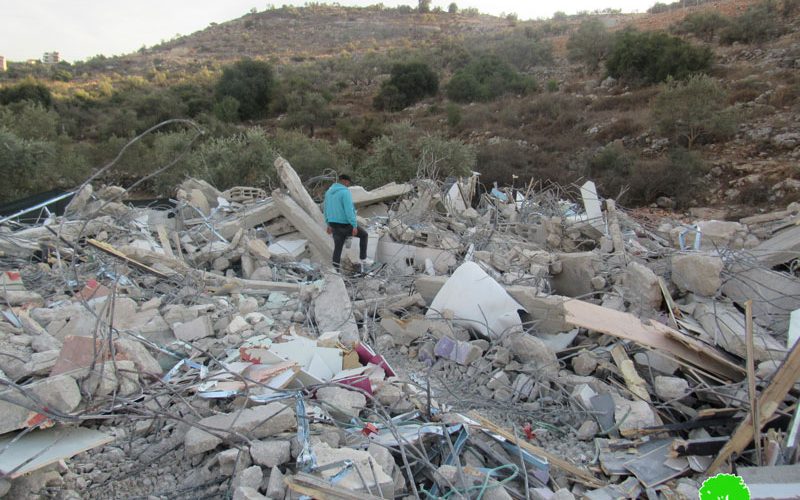 Violation: Demolishing a building on the pretext of working without licenses.
Location: Shuqba village North Ramallah.
Date: November 20th 2019.
Perpetrator: The Israeli occupation forces.
Victims: Family of Mahmoud Al-Masri.
Description:
In the early morning hours of Wednesday November 20th 2019, about 9:00 am, a massive army force accompanied by two military bulldozers raided northwest Shuqba, heading to an area known of "Wad At-Teen", the occupation imposed a closure and prohibited people of the area from approaching the location , then they demolished a residential building inhabited by two families and consists of two apartments with a total area of 360 m2 and a barn with an area of 40 m2.
Reportedly, the targeted building was built in early 2015 , and inhabited by 9 family members among them 6 children.
In early October 2017 , the owner received a halt of work order on the pretext of building without licenses , in early 2019 the family resided the building, in October 2019 the occupation forces raided the area and searched the house .
Mahmoud Al-Masri told LRC:
"The family was thrown outside the house in the cold of the morning and were not allowed to take any of their properties , the occupation destroyed the house over everything that was inside it of money, clothes , furniture and everything, our children came back from their schools to a destroyed house , even their toys were completely destroyed , the construction of the house caused about 1 million shekels."
34 km from Ramallah village Shuqba suffers from daily harassments , Shuqba village council head Hassan Shalash told LRC:
"The village suffers from the small built up area , the village's built up area does not exceed 1320 dunums out of 51 thousand dunums as the total area of the village , and with a population of 4260 people according to 2017 census, the people are forced to build in C area according to Oslo accords , which makes them exposed to the occupation's military orders , the village consists of 14 residential and agricultural facilities notified with demolition."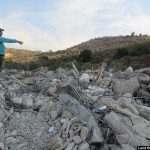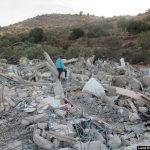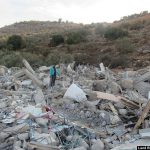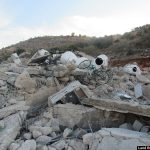 About Shuqba village :[1]
34 km north west Ramallah , Shuqba is bordered by Aboud (north) , Al-Qubaiba and the green line (west) , Deir Abu Masha'al (east) and Shabtin (south).
Shuqba has a total population of (5,459) people  according to 2017 census.
The village has a total area of 13,495 dunums, of which 979 dunums are a built up area for Aj-Jalama.
The occupation confiscated 613 dunums for the following purposes:
1-      Bypass 446 ate up (335) dunums.
2-      The apartheid wall (2780 m) ate up (278) dunums , and isolated
(1390) dunums.
Oslo accords divided Shuqba lands as the following:
–        B area : 1208 dunums.
–        C area : 12,287 dunums.
[1] GIS-LRC
Prepared by