Settlers of "Maskiyot" lay their hands on Ein Al-Hilweh spring / Tubas governorate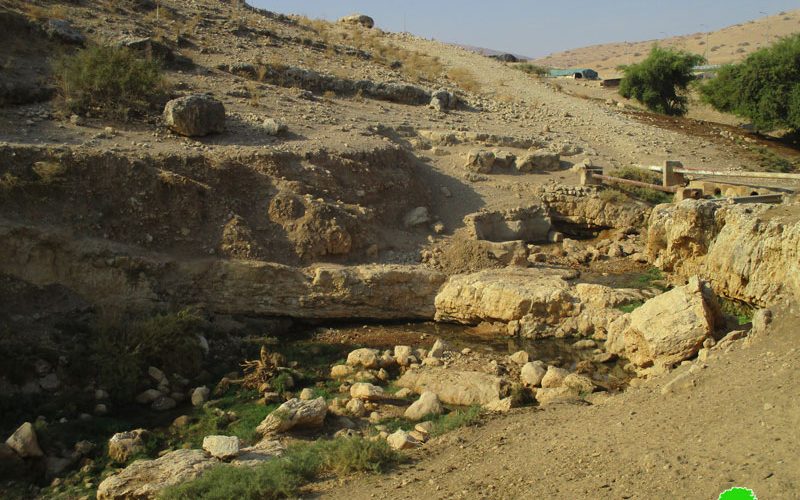 Violation: Settlers take over a spring in a Palestinian community.
Location: Ein Al-Hilweh area- Wadi Al-Malih/ The northern Jordan Valley.
Date: October 09, 2019.
Perpetrator: "Maskiyot" settlement.
Victims: "Ein Al-Hilweh" Bedouin community and "Umm Jamal" community.
Description:
Wednesday, October 9 ,2019, a group of settlers from "Maskiyot" settlement took over a water spring in Ein Al-Hilweh and prohibited herders from using them.
Settlers fenced the area under the protection of the occupation army, the occupation forces threatened herders  of forcible transfer in case they kept coming to the spring  , Illegal settlers claim that they own the spring which is located 500 m from their settlement.
About Ein Al-Hilweh spring, Bedouin community head  Mahdi Daraghmegh told LRC reporter : "Ein Al-Hilweh spring was known as an essential source of water since the roman era , the spring contributed in reviving agriculture on about 8000 dunums. Since, 1967 and until this day the occupation laid their hands over most water resources in the Jordan Valley which overshadowed Ein Al-Hilweh spring that is being over used now, the spring is now almost drained , it provides water for cattle. Noteworthy, most of the town people depend on livestock for living."
Daraghmeh asserted:
"Before 2000, parts of the springs were rehabilitated to facilitate lives of Bedouins in the area, but it was destroyed again due to floods, since then the occupation prohibited rehabilitating it, and settlers fenced the area and prohibited farmers from approaching the location."
Such measurements overshadowed the Palestinian agricultural sector and farmers lives, according to the ministry of agriculture estimations, the spring provides water for 2100 cattle heads.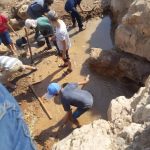 Photos 1-2: Ein Al-Hilweh spring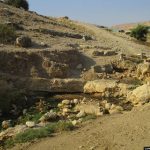 Photos 3+4: settlers polluting the spring after they imposed their contr9ol over it
Ein Al-Hilweh area has a total population of 140 people that came originally from Tammoun village in Tubas precisely from Bsharat and Bani Oudeh clans, and they depend mainly on cattle breeding for living.
Photo 5: Ein Al-Hilweh Bedouin community
Prepared by