Ravaging 10 dunums in Farkha village / Salit governorate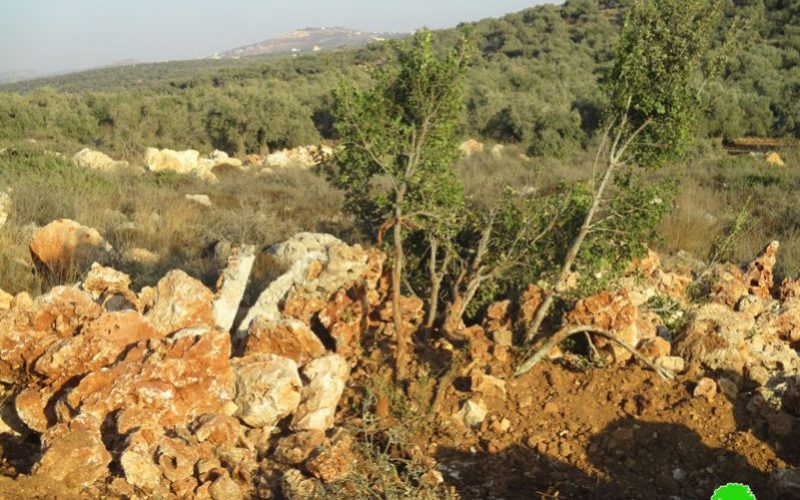 Violation: Ravaging plots , uprooting plants and destroying an under construction cistern.
Location: Farkha village / south west Salfit.
Date: October 07,2019.
Perpetrator: The Israeli occupation forces and the government properties department.
Victims: Family of Hassan Hajjaj.
Description:
Monday , October 07 , 2019 , A massive army force and machineries raided Farkha village , and carried on ravaging and leveling 10 agricultural dunums of which 4 dunums were rehabilitated only 3 years ago.
The targeted plot belong to farmer Hassan Hajjaj (68 years old), the supporter of a family of 5 , Noteworthy the plot is only 1 km away from the town houses , according to field observation at the location  , 182 plants were uprooted:
| | |
| --- | --- |
| species | Number of uprooted plants |
| grapes | 153 |
| apples | 15 |
| figs | 6 |
| olives | 8 |
| total | 182 |
Photo 1-6 : The targeted plot
They also left the following damages:
Destroying a metal gate 4 m.
Destroying a fence 300 m *1.5 m.
Destroying 300 m of retaining walls.
Destroying an under construction cistern 80 m3.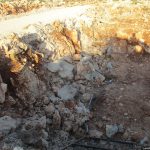 Photo 7 :The targeted cistern
It is noteworthy, in August 4, the Israeli occupation government properties department served military order numbered 392671 to the owner, the order forces eviction within 45 days under claims that the plot is an Israeli state property, the order was attached with an illustration map.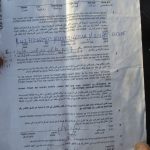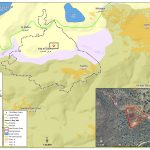 Photos 8-9: eviction order and an attached map
Farmer Hassan Hajjaj told LRC reporter:
"I have ownership deeds that prove I own the plot , in 1969 I registered the plot as my own in Lands department in "Beit El" , in the 80s and 90s I used to cultivate it with wheat yearly , in 2017 I rehabilitated 4 dunums as part of an MoA project funded by the Fao, and cultivated it with Almonds, Grapes and Olives  , this was followed by a military order from the occupation. Before I knew it , bulldozers showed up and destroyed the plot in less than 20 minutes."
Farkha village:[1]
5 km west Salfit , Farkha is surrounded by Salfit (north) , Bruqin (west) , Salfit (east) , Bani Zayed Ash-Sharqiya and Qarawat Bani Zaid (south).
Farkha has a population of (1650) people according to 2017 census, and a total area of 5,897 dunums, of which 322 dunums are  a built up area.
The Israeli occupation announced a plan to build an apartheid wall on the village lands , in case the plan was implemented , the wall will eat up 66 dunums , isolate 176 dunums , and will be 662 meters long.
Oslo accords divided the towns' lands as the following:
A area (2,981) dunums.
B area : (968) dunums.
C area : (1948) dunums.
[1] GIS-LRC
Prepared by