Demolishing houses and facilities in She'ab Al-Harathat – Masafer Yatta / Hebron governorate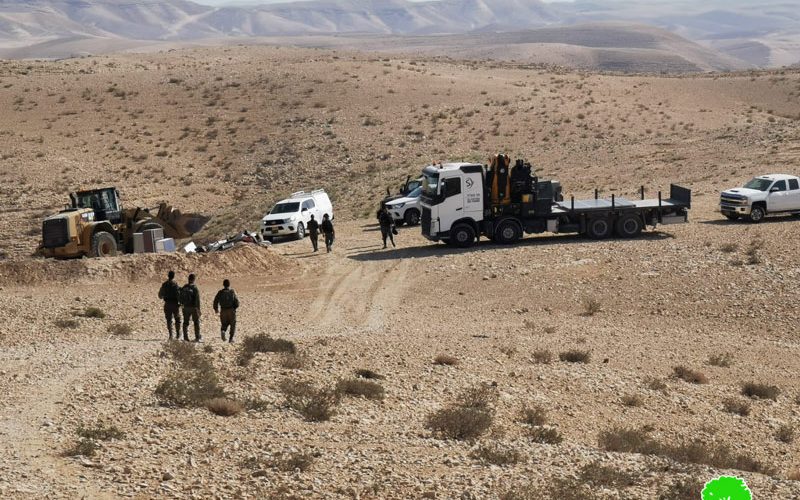 Violation: Demolishing houses and facilities.
Date: 10 / 10/2019.
Location: She'ab Al-Harathat – Masafer Yatta / Hebron governorate.
Perpetrator: The Israeli occupation civil administration.
Victims: Jameel and Mahmoud An-Najada.
Description:
Thursday, October 10, 2019 , the Israeli occupation authorities demolished houses and facilities belong to citizens from Masafer Yatta , South Hebron, on the pretext of building without licenses.
An army force raided the area accompanied by members from the building and organization department in the civil administration, a "Caterpillar" bulldozers with numbers of machineries raided the area at 9:00 am and headed to "She'ab Hraithat" location west Ad-Duqaiqa village, where the owner , his son and grandchildren live. The occupation forces surrounded the targeted structures , and ordered citizens to leave their residences, then took out their properties and leveled the structures to the ground.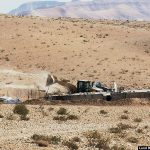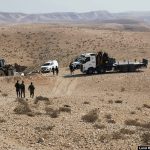 Photos 1-3: The process of demolishing houses and facilities in She'ab Al-Harathat
The occupation demolished (3) rooms built of bricks and steel sheets , and has a total area of (70 m2), it was built in 2013 , and inhabited by family of Jameel An-Najada and his son Mahmoud's family , with a total number of 12 people, 4 of them are children.
The occupation demolished two cattle barns , built of barbed wires and steal sheets , and with a total area of 50 m2, owned by Jameel An-Najada who herds a cattle of 30 heads.
The occupation bulldozers also uprooted 6 olive trees , that were planted two years ago close to citizens homes , and confiscated 4 solar cells , that were granted by a human rights institution to provide electricity for their homes.
After the occupation demolished the structures, and the family was left homeless, a human rights organization provided them with tents . The occupation had demolished all sorts of structures in She'ab Al-Harathat, only two families and their tents stayed at the location.
In 2nd of April 2019, the occupation authorities issued halt of work orders on the targeted structures and facilities on the pretext of building without licenses, and set 12/5/2019 as the subcommittee session in Beit El military court to decide the fate of the structures.
Ad-Duqaiqa Ad-Duqaiqa and Arab An-Najada village council head told LRC reporter council head said: "Citizens prepared the legal files and assigned a lawyer in the Colonization and Wall Resistance Commission in the Palestinian authorities, the lawyer followed up with the occupation's court , the case reached the Israeli supreme court, but the court did not issue a Judgment yet. However, the occupation troops showed up at the location and leveled the structures to the ground."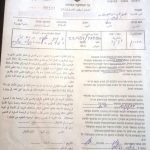 Photo 4 : the occupation's military orders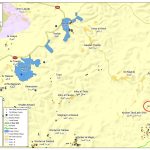 Legal Feedback:
LRC sees Israeli demolition operations of Palestinian houses and structures a flagrant violation of international agreements and conventions:
Article 147 of Geneva fourth convention : extensive destruction and appropriation of property, not justified by military necessity and carried out unlawfully and wantonly. ( it is considered a serious violation of the convention)
Article 53 of Geneva fourth convention that forbids destroying properties : Any destruction by the Occupying Power of real or personal property belonging individually or collectively to private persons, or to the State, or to other public authorities, or to social or co-operative organizations, is prohibited, except where such destruction is rendered absolutely necessary by military operations.
Article 33 of Geneva fourth convention: No protected person may be punished for an offence he or she has not personally committed.
Article 32 of Hague convention 1907 part g: To destroy or seize the enemy's property, unless such destruction or seizure be imperatively demanded by the necessities of war.
Article 17 of Universal declaration of human rights 10 –Dec- 1948: No one shall be arbitrarily deprived of his property.
Prepared by