The Israeli occupation target Palestinian facilities in the Jordan valley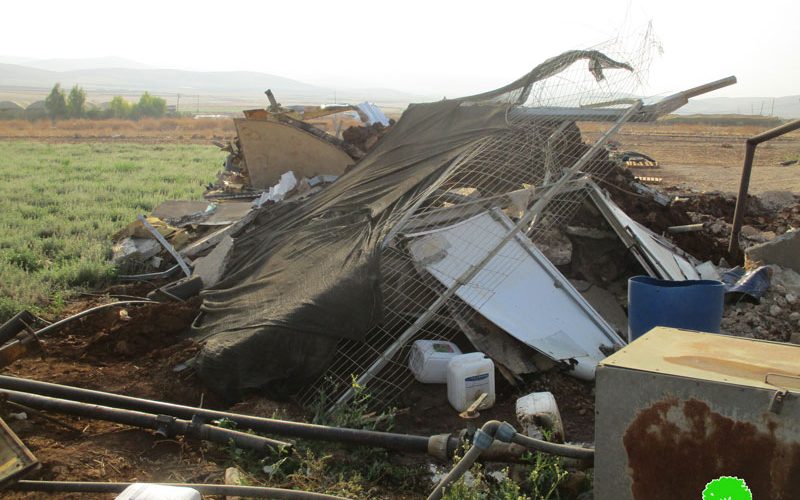 Violation: demolishing facilities and issuing halt of work orders on number of agricultural tents.
Location: Sahel Al-Buqaia and Ar-Ras Al-Ahmar in the Jordan Valley.
Date: 18/9/2019.
Perpetrators: The Israeli occupation building and organization department in the civil administration.
Victims: three Palestinian families living in the area.
Description:
The Israeli occupation is constantly targeting "Sahel Al-Buqaia" area in the Jordan valley, through imposing restrictions on farmers' access and cultivation of their lands , even though it is an important source of income for most of them.
About 7:15 Wednesday, 18 September 2019 , the Israeli occupation forces accompanied by a military bulldozer raided Sahel Al-Buqaia area east Tubas, and carried on destroying a barracks with an area of 60 m2 , and an old truck used as a store , during that process a water line with a radius   of 6 inches was destroyed, the water was providing water for 30 dunums planted with vegetables.
The targeted facilities belong to farmer Rami Qalawleh from Tubas city, who told LRC reporter:
"I own a plot in Sahel Al-Buqaia that has an area that exceeds 25 dunums planted with rainfed agriculture, early last may I built a barracks and put an old truck at the plot to use them as a store for seeds, saplings and agricultural  tools."
Qalawleh asserted:
I was shocked of the occupation machineries showing out of nowhere and destroying my properties , the occupation claimed that they served a preceding notice but I did not recieve anything, my loss reached 32,000 NIS ( about 9,170 $).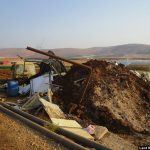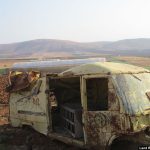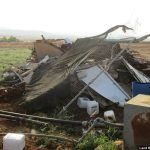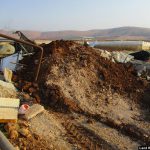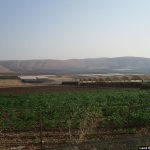 Photos 1-5: the targeted facilities
Halt of construction notices on 6 residential and agricultural tents:
About 10:00 am of Wednesday, September 18 , 2019 , a building and organization officer from the civil administration accompanied by the occupation forces  raided Ar-Ras Al-Ahmar area , where they served a written military order that targets 6 agricultural and residential tents , on the pretext of building without licenses.
According to the military order numbered (267071), the occupation set October 3rd for the building and organization session in "Beit El" military court to decide the fate of the structure.
Reportedly, the occupation forces left the following damages:
Affected citizen

Family members

Cattle heads

Military order number

The targeted facilities

'Ayed Id'ais

7

80

267071

-Residential tent 65 m2

-2 tents used as barns with an area of 45m2 for each

A barn 90m2

Ahmad Id'ais

2

35

-residential tent with an area of 45 m2

 – a tent used as a barn 45m2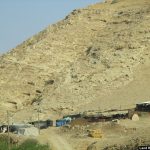 Photo 6: the targeted tents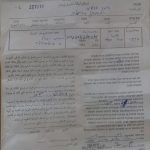 The military that targeted residential and agricultural facilities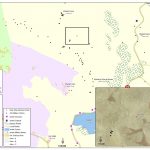 In the recent years , Ar-Ras Al-Ahmar have been constantly targeted  by the occupation , with the intention of emptying the area and impose a de facto policy, reportedly LRC team documented number of violations, among them  demolition of properties and depopulation of houses, and confiscating agricultural tools.
International Conventions and agreements pertaining to house and residences demolition:
Article 147 of Geneva fourth convention  : extensive destruction and appropriation of property, not justified by military necessity and carried out unlawfully and wantonly. ( it is considered a serious violation of the convention)
Article 53 of Geneva fourth convention that forbids destroying properties : Any destruction by the Occupying Power of real or personal property belonging individually or collectively to private persons, or to the State, or to other public authorities, or to social or co-operative organizations, is prohibited, except where such destruction is rendered absolutely necessary by military operations.
Article 33 of Geneva fourth convention: No protected person may be punished for an offence he or she has not personally committed.
Article 32 of Hague convention 1907 part g: To destroy or seize the enemy's property, unless such destruction or seizure be imperatively demanded by the necessities of war.
Article 17 of Universal declaration of human rights 10 –Dec- 1948:  No one shall be arbitrarily deprived of his property.
Prepared by