The Israeli occupation demolish a cistern and an agricultural room in Al-Buqa'a / East Hebron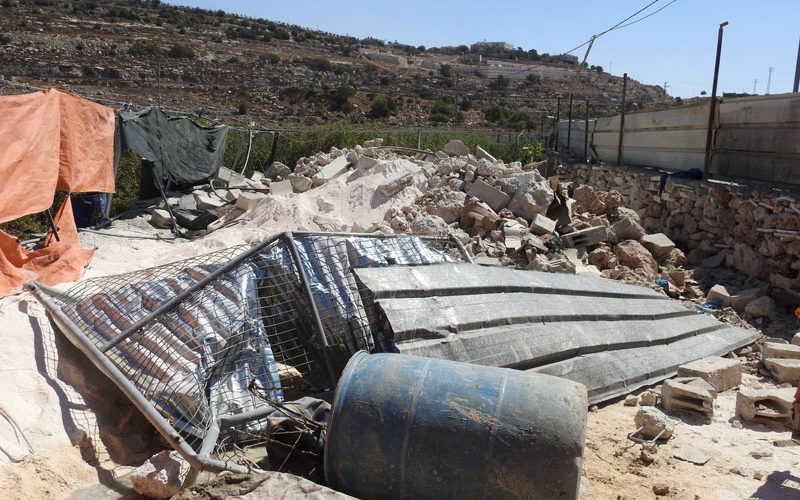 Violation: Demolishing a cistern and an agricultural room.
Date: 26/09/2019.
Location: Al-Buqa'a / East Hebron governorate.
Perpetrator: The Israeli occupation civil administration.
Victims: Citizen Nader Jaber.
Description:
Thursday, September 26,2019 , The Israeli occupation authorities demolished an agricultural room and a cistern that belong to Nader Jabir , in Al-Buqa'a east Hebron , on the pretext of building without licenses.
The owner's son told LRC reporter:
"An army force accompanied by members from the building and organization department, and a vehicle related to the civil administration invaded the area, and carried on demolishing a metal gate and parts of the retaining wall in order to get in to the plot, then carried on a demolition operation that targeted an agricultural room built of bricks and steal sheets, with an area of (15 m2) reaching out to a cistern door, demolished it then felled it with earth mounds.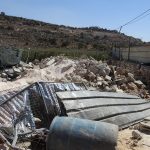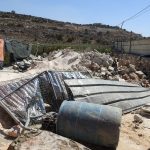 Photos 1+2: the remains after the demolition operation
The targeted cistern has a capacity of 200 m3, used to harvest rain water for his 4 dunums plot , where he practices agriculture.
The occupation machineries also ravaged construction materials that were close to the site. Noteworthy, the owner received a demolition order on the structures in early September 2019, and did not have the chance to object.
Noteworthy, "Kiryat Arbaa' and "Kharsina" settlements are close to Palestinian houses and farmlands in Al-Buqa'a, which made the area exposed to continuous settlers attacks against farmers and their farmlands in one of the most important agricultural areas in Hebron governorate, especially in the production of grapes and vegetables.
Prepared by