Settlers of "Talmon" build a new outpost on Ras Karkar village lands / Ramallah governorate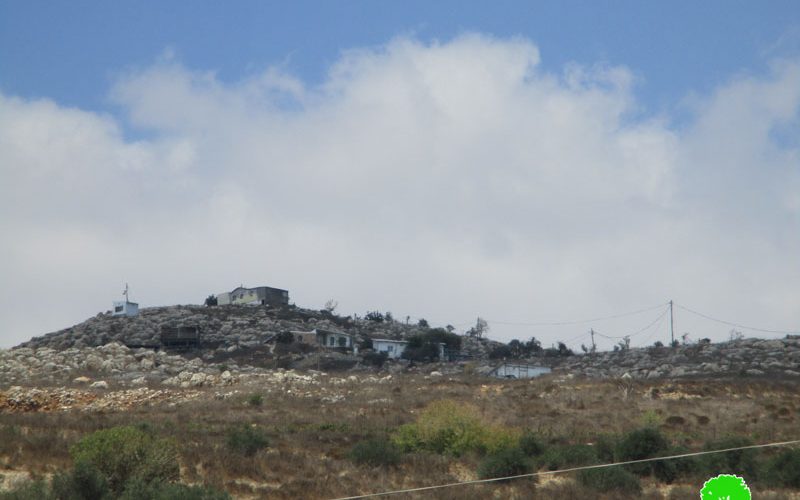 violation: building a new outpost on Ras Karkar village lands , and naming it "Kirim Ra'im".
Location: Ras Karkar village / North Ramallah.
Date: Early September 2019.
 Perpetrators:  Settlers of "Talmon".
Victims:  people of the Ras Karkar.
Description:
A group of "Talmon" settlers set up number of caravans on the eastern hills of Ras Karkar about 400 m west "Talmon B" settlement.
Reportedly, the targeted area for the outpost surrounds "Talmon B" is located in Natural block 9 , in an area locally known as "She'abet Thyab" and "Wad Abu Qre'a" .
Mr.Mohammad Abu Fkhaitha from Ras Karkar village council told LRC , there is an extensive presence of settlers in the recent three years, that clearly started in August 2017 , when settlers set up few tents at the location and connected them through a road to "Talmon B" settlement.
The caravans occupy an area of 12 dunums , and was named "Kirim Ra'im" after one of the area's radical rabbis, who fuels hatred and religious extremism in  settlers at a young age.
In fact, the targeted location belongs to number of farmers from Nofal and Abu Fkhaitha families in the village , since year 2000 and until this day, the occupation have been imposing restrictions on owners access to their lands , and permit them to visit their properties only during olive harvesting season and for a restricted period of time.
In the recent years, LRC documented establishing number of new outposts, most of the time located on mountain tops and on lands allocated as an Israeli state property in their records, or lands belong to farmers who were denied accessing to it.
Ras Karkar: [1]
15 kilometer north  west of Ramallah, It is about 500 m above sea level, and has a total area of 5,050 dunums, of which 330 dunums are a built up area.
 Ras Karkar is surrounded by Deir 'Ammar (north),  Kafr Ni'ma and Deir Ibziq  (south), Al Jania (east), Bani Harth (west).
Ras Karkar has a population of 1956 people according to statistics conducted by the Palestinian Central Bureau of Statistics in 2017.
The Israeli occupation devoured more than 32  dunums of the lands of the village for Talmon C colony which was built in 1989. Moreover, bypass number '463 took over 295 dunums of the village lands.
According to Oslo Accords, 19% of Ras Karkar is under Area B (PA has full civil and security control) while most of the village lands (81%) is under Area C (Israel maintains full security and administrative control). Here are the area in dunums:
Area B (940) dunums
Area C (4110) dunums
About "Talmon" settlement:
Talmon settlement cluster was first established on Aj-Janiya village lands in 1989 , occupying an area over 300 dunums , and about 500 m from the village, the occupation authorities built  another settlement and named it "Talmon B" , which meant confiscating the plots where the settlements are built in Al-Mazra'a Al-Qibliya and Aj-Janiya. In 1992 , the occupation authorities built another settlement 200 m away from "Talmon B" on lands in Al-Mazra'a Al-Qibliya , Aj-Janiya , Ras Karkar and Deir 'Ammar confiscated in 1980 and was named "Talmon c" . Talmon is populated 4723 settlers until the end of 2018.
Photos 1-3: The new outpost
The attachment of the map
[1] GIS-LRC
Prepared by